Paola — Paola Workwear Jacket Pattern
Paola — Paola Workwear Jacket Pattern
Workwear-inspired, the Paola jacket combines fashion with practical, everyday wear. Featuring straight boxy fit, four large patch pockets and flat-felled seams for sturdiness, it pairs well with just about everything. Made from our textured heavy-weight linen, it has that lived-in feel from the very first wear.

What you get with your pattern:

- Free PDF download for our registered customers.
- Print-at-home format on Letter/A4 paper.
- Layered PDF to print just the sizes you want.
- Most patterns available graded in size 0/2 to 28/30.
- Step-by-step instructions on The Thread blog.
- No licensing restrictions. Sew as many as you like for yourself, your family, even your sewing business.

Pattern specifications:
| | |
| --- | --- |
| Type: | PDF Pattern |
| Design Variations: | |
| Sizes: | 0/2 to 12/14, 16/18 to 28/30 |
| Illustrations: | Yes |
| Instructions: | Yes |
Reviewer: Diana
Made two quilt coats from this pattern. Thank you.
Reviewer: Jenny
This pattern is amazing! It wasn't very difficult to sew. This was my first time sewing a jacket and I enjoyed every minute. The jacket I made is one of my most worn items and I'm very very proud of it. I highly recommend this pattern to confident beginners who want to start making their own outerwear. Thank you for such amazing free patterns
Reviewer: Daryl
really good, but when i printed the pattern none of the lines showed up (only the text), I think there was a problem with the PDF, so I ended up tracing the pattern from my computer screen. still I am really happy with my new jacket
Lauren
I'm sorry you had trouble viewing the Pattern. Please email us anytime if you have problems with our patterns, we will be able to help diagnose the issue and get it printing out properly for you.
Reviewer: Clara
I made this in 4C22 softened heavyweight in ultramarine (which is out of stock currently - a testament to my eyes being bigger than the time I have to sew!). It's a surprisingly easy pattern for someone like myself who is still getting used to sewing with linen. I love the weight and style. I made it with slightly larger outside lower pockets, and slightly smaller inside pockets just behind them -- a set of secret stash pockets -- and skipped the upper pockets. I'm waiting on some vintage buttons I ordered to finish it -- can't wait to start wearing it; this will become my go-to jacket for sure. Can I just say finding linen has been a revelation for me? Thank you FS!
Reviewer: Janet
I sewed a size 10 and was disappointed that there is way too much ease on the back facing and on the sleeves. I must have unpicked several times and the result is far from stellar.
Lauren
We're sorry you're not loving your Paola workwear jacket. I've sent you an email.
Reviewer: Noha
Being plus size (bust 48in waist 45in hips 49in) it's hard to find a free well drafted pattern for my size. The pattern has a good amount of ease to be comfy yet look good on me. I used fabrics store instructions. The pattern wasn't hard to put together, however I struggled with the collar and facing, as it was my first time. I made size 20/22. I lengthened and curved the hem and added patch pockets to make it a shaket. Thank you so much fabrics store from Cairo, Egypt
Reviewer: Alisha
This pattern is free but that's not even the best part. The pattern is fairly easy to follow. A beginner with some previous sewing knowledge could handle this because Fabric-store even has a tutorial on their blog "the---thread". Don't overlook that extra opportunity to have even more guidance. The jacket is on trend right now. The young adults in my life call it a Chore Coat and you can see many inspiration pictures online to choose your favorite color. I recommend the 7.1 oz FS Linen!
Reviewer: Laura
This was my second sewing project ever and I found it to be challenging but in all the right ways. It gave me a lot of my firsts, like using interfacing, creating a collar and buttonholes. I ended up sizing down and the fit is perfect - with still a bit a give. Will make again in correct size with a cozy lining for winter.
Reviewer: Kathleen
I'm not sure which button I clicked on but found the pattern eventually.
Reviewer: Kathleen
Hi- I downloaded where it says 'Free Download' but it only shows general instructions. Then I found link to step by step but no patterns. Where can I find the pattern? I just rec'd my linen from you all and hope to sew this up. Cheers- Kathleen
Reviewer: Valerie
I also had the issue of not getting the pattern in the download. I got some nice pictures of jacket, but no pattern.
Oksana
Good afternoon! I am sending you a follow-up email as well. But to access the pattern pieces - open this file in Adobe Reader. In the Adobe Reader menu click View - Show/Hide - Navigation Panes - Attachments. Adobe will pop open a side panel with the attached file which is the pattern pieces. Double click on the attached file and Adobe will open it for you :)

Love this jacket! Made it with 4C22 Mixed Natural. I was worried it wouldn't look good in this color but I love how it turned out! I didn't put the collar but added a hood to it. I also added flaps to the upper pockets. This jacket is perfect for SoCal fall/ winter.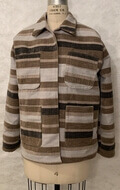 I ABSOLUTELY LOVE THIS PATTERN. It is the easiest pattern I have ever done. I made a size 8/10. I also added a lining. I will definitely create more like this.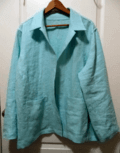 Paola jacket in 4C22 MOONFLOWER Premier Finish with large bust alteration. I still need to find the right buttons for it.

Thanks for this great pattern. I made my jacket in corduroy. This sizing was just right. It was a treat to sew and such a comfortable garment to wear.

Finished! This is the first jacket I've every made. The pattern made it super easy! I used 4C22 Earth Softened linen, and an assortment of large odd buttons from my button box. Omitted the patch pockets and instead added side seam pockets. Shortened the length by 2.5" for my shorter frame. I love it! I hope to make another one.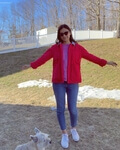 This was the first jacket pattern I've made! It went very smoothly. The only change I made was to the size of the pockets. I definitely want to make this one again in another fabric! (The fabric I used here is fleece.) Thank you fabrics-store for the free pattern !!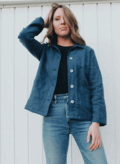 Ever since I uncovered a vintage French chore jacket at a flea market years ago, I have been obsessed with this timeless jacket design. If you follow me on Pinterest, you are not surprised to read this. I have dreamed of creating my own version for a while and finally found the perfect sewing pattern to do it! You can read more about this project here: blog.fabrics-store.com/2021/03/11/pattern-review-paola-workwear-jacket-in-insignia-blue-linen/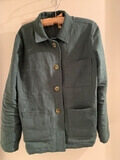 Great pattern! I used 4C22 EMERALD Softened - 100% Linen - Heavy and it came out well. I placed one of the upper pockets on the inside of the jacket. I will certainly get alot of wear out of this piece.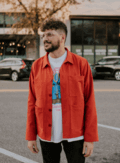 FS Paola Work Wear Jacket made with Red Cotton Twill requested by my son in law. For the men's jackets, I used the size guide to estimate which size might work for them even though it has women's sizing. This wasn't too tricky and I measured their shoulder width to make sure I got it correct comparing the width to the top of the back piece pattern. For men, you also need to put the buttons on the opposite side – buttons on the right, buttonholes on the left. You can find more info on my heirloom quality handmade clothing here: mamaosa.co/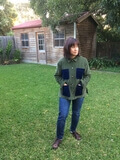 This very practical jacket which I made with pinwale corduroy. I did not have enough green corduroy, so I decided to make contrast pockets with blue corduroy. I decided to put side splits in for ease of movement and minimised some top stitching. I did move the buttons closer to the collar as the original image looked like it was gaping a little bit. Otherwise, no other alterations. Made a size 4/6 and I am an Australian size 10. It has perfect roominess for me as I plan to wear it with layers in the cooler weather. Love this jacket and plan on making more!
We're proud to share our patterns without licensing restrictions. You may use our patterns to sew for personal use or for your business. For paid digital patterns, we do not offer returns. Please make sure to ask any questions you may have before purchasing a digital pattern.
Please read: Our patterns are formatted to work reliably across all devices that run Adobe Acrobat Reader applications. Each patterns comes with detailed printing instructions on terms of use. If you have any questions, e-mail us at ask@fabrics-store.com and our pattern makers will reply to you as quickly as possible.
Paola
*If prewashing in hot water, you may need up to extra 10% fabric due to shrinkage. ALL SEAM ALLOWANCES ARE INCLUDED AND NOTED ON THE PATTERN AND IN THE TUTORIAL.
*If prewashing in hot water, you may need up to extra 10% fabric due to shrinkage. ALL SEAM ALLOWANCES ARE INCLUDED AND NOTED ON THE PATTERN AND IN THE TUTORIAL.

E-MAIL
Please contact us by following the link below.
SUBMIT A REQUEST

PHONE
1 866 620 2008
Call us Monday through Friday 10 am - 6 pm PST
Enter the e-mail address associated with your Fabrics-store.com account:
Temporary password has been emailed
Temporary password has been emailed to ivan@ecwm.com, and should arrive shortly. If you have any questions or problems, please contact our customer care center at 1-866-620-2008.
Your account has been disabled. If you believe this to be a mistake, please call our customer service at 1-866-620-2008 and we will help you with your order. We appreciate your cooperation.
Web Accessibility Toolbar