Akira — Linen Wrap, Short Cardigan, Long Cardigan, Pant and Capris
Akira — Linen Wrap, Short Cardigan, Long Cardigan, Pant and Capris
Price:
Paper Pattern : $45.00

New choices, new delights: the Akira wrap, short cardigan, long cardigan, pant and capris are what everyone wants for every weather. Looking forward to the Akira Collection's new softness: casual linen clothes to wrap up in at home that reflect the season's gentler silhouette.
What you get with your pattern:

- 1:1 fit and pattern consultation with our in-house pattern maker and fit expert.
- The latest in sizing. We use up-to-date technology and body shape data to get you a better fit.
- Professional clothing construction techniques. Developed by industry insiders with 100 years of shared experience.
- Illustrated instructional booklet to get you from start to finish. Written with the beginner in mind.
- Comes printed on crease-free, rolled plotting paper. Professional quality.
- Your pattern comes with only the sizes you requested printed in vibrant colors. Less clutter for easier cutting.
- Complimentary pattern storage tube and pattern hook.
- Pattern card for easy reference.
- Sew for your business? The pattern license is free with purchase.

Pattern specifications:
| | |
| --- | --- |
| Type: | Paper Pattern |
| Design Variations: | 5 |
| Sizes: | 2 to 8, 10 to 16, 18 to 24 |
| Illustrations: | Yes |
| Instructions: | Yes |
Reviewer: Leanne
This is so casual and comfortable. I find that I am throwing it on over shorts, pants of almost any type. I am planning to make the longer version next.
Reviewer: Dawn
I've been making home decor items with the linen fabric from Fabrics-Store, and truly love the fabric. I'm addicted. I wanted to try a clothing item so I purchased the Akira pattern special with three yards of fine bleached linen and decided to make the pants first. I'm happy with the instructions but the pattern was very big, even the smallest size. I'm 5'2", small frame, 115lbs. I used the Capri length for full length pants and still had to shorten. I also had to shorten the crotch to waistband by almost four inches. I'm happy with my pants after many adjustments, but I'm a bit hesitant to try other patterns if they all run this big. How about a petite sizing in the patterns? The details in the pattern pockets are lovely. The overall look is very nice with the soft linen that came with the pattern. I'll be more conscious going forward of sizing with these patterns if I decide to try something else.
Reviewer: Karen
My daughter sketched the design for her jacket. She is a model and very specific about what she wants -?voila, this was the exact design. The pants are a bonus. I will transfer to pattern paper so I can sew this design again.
Reviewer: Leanne
I just received my pattern (and linen - 3rd order of fabric) and am eager to get the sewing begun. With the warmer weather, I plan to make capris and the wrap. Later, I will order more linen to make pants as well. Tomorrow starts my journey!
Oksana
Oh how exciting! I hope you enjoy making and wearing the outfit - hope to see photos :) Email us if you have sewing questions and we also did sewing tutorials for this pattern on our blog: blog.fabrics-store.com/2020/04/02/fs-akira-capris-pattern-sewalong/ blog.fabrics-store.com/2020/04/16/fs-akira-wrap-pattern-sewalong/ Have a great weekend!
Reviewer: Maryjo
I was asked what made these patterns worth the cost. They are worth every penny. The patterns are the perfect choice for linen..designed with linen fabric in mind. They are classic styles..will not go out of style and they create a perfect pallet for accessories. The styles are beautiful and elegant, fun and practical. And finally, like a present in a beautiful box, wrapped thoughtfully they arrive with all the bells and whistles, well thought iut..quality packaging, quality paper, exceptional instructions
Reviewer: Suzanne
I just completed the Capri Pants. I am 5"4" they were a little long. Other than that they fit great. Not too baggy in the waist and they fit at the waist. When I bend over my butt is still in the pants. Thanks ....I will be working on the jacket next...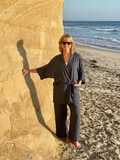 I love everything about this outfit; the fit, the drape, the color, the comfort level. The pattern was easy to follow and it came together fairly quickly. This is my first pattern from FS and I'm impressed.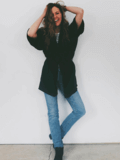 A couple weeks ago, I made the AKIRA pants in a DUSTY GREEN linen. I loved this pattern so much, I decided to make the wrap jacket as well. I originally thought I would make it in natural linen to match my recently made MAGDA pants, but after considering the shape of this design and my personal style, I returned to my favorite, a timeless Midweight BLACK linen. The AKIRA pattern set features a slouchy silhouette, plenty of ease, and simple closures. It's incredibly approachable for a beginner seamstress. The finished garments have a casual feel, easy to dress up or down. Comfortable, yet elegant.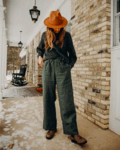 I'm loving this pattern design for its comfortability and versatility. The wide leg and drawstring closure remind me of pajama pants, in a good way. They are perfect for lounging with a pair of wool socks in these colder months. And, because of the beautiful drape and texture of linen, this design can be easily dressed-up with a sweater, fleece leggings underneath, and boots (my trick to wearing linen in the winter).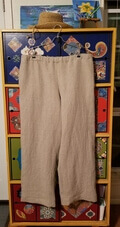 I used the heavier weight natural linen for these pants. Very comfortable. Now to make a top to complement them.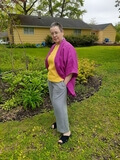 recently ordered the Akira/Cameron pattern and am simply delighted with it. I've gotten so much sewing done these past weeks and realized that linen is my absolutely favorite fabric to sew. I've attached a picture of the Akira wrap (in a luscious purple), a pair of the Akira crop pants (medium lovely gray) and a simple sleeveless blouse from your free pattern collection in a bright yellow! I adjusted the pattern for a FBA, which turned out beautifully. I then made another blouse in white linen. I'm so appreciative of your patterns, your fabrics, and the creativity your site inspires. Next up: Akira pants in black linen (ordered last week) and the Akira short cardigan in apricot (just ordered today!) It's entirely true - nothing short of addicting!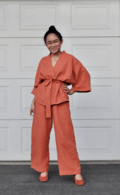 The Akira collection consists of two garments, a cardigan or top and a pair of pants or capris. There are multiple variations you can get from each type of garment, making this pattern very versatile. After mulling over which ones I wanted to make, I decided on cutting a pair of capris and the belted top. The effortless design of the pieces makes each one of them totally wearable and very easy to match with other pieces in my wardrobe. As with other Fabrics-store's printed patterns, I cannot emphasize enough the clarity of the instructions. I would recommend the Akira collection to any beginner sewist who wants staple pieces in their wardrobe.

The Akira pattern I love because of it's versatility and how classic it looks. I generally lean towards pieces that are versatile, effortless to wear and are easy to care for. This pattern is that and more. The top has three possible versions and pant 2. It is a perfect pattern for beginners as well. The Akira set really speaks to my style because I love accessories and I love to layer and the cardigan especially is something I could play up. Although winter is fast approaching here in the Boston area, I never put my linen away! I just add it as an extra layer
Enter the e-mail address associated with your Fabrics-store.com account:
Temporary password has been emailed
Temporary password has been emailed to ivan@ecwm.com, and should arrive shortly. If you have any questions or problems, please contact our customer care center at 1-866-620-2008.
Your account has been disabled. If you believe this to be a mistake, please call our customer service at 1-866-620-2008 and we will help you with your order. We appreciate your cooperation.
Web Accessibility Toolbar