IL084 - REMY NATURAL/VINEYARD GREEN MLT-18 Softened
IL084 Narrow Width Remy Natural/vineyard Green Mlt-18 Softened - 100% Linen - Heavy (7.1 oz/yd2)
EXCLUSIVE - Only At Fabrics-Store
Purchased By:

1052 people!
Price: $9.07 per yard

This is a 19" wide twin to the 4C22 Rustic linen line.
Woven out of the same size thread and with the same thread density this IL084 is just woven to be narrow. That means less cutting time for you and you can get to the fun part of using your linen items sooner.
At a heavier weight of 7.1 ounces a square yard this 100% linen is referred to as Rustic due to its more textured look and feel. Durable and perfect for projects that require just a bit more substance.
Yarn Dyed fabrics are made using threads that are dyed separately before being woven. This allows for a larger variety of patterns and designs that stand out from the base fabric color. Design created exclusively for F|S.

Narrow width cloth is great for:

Shopping bags
Purses
Placemats
Runners
Decorative pillows
Kitchen towels
Appliance covers
Potholders
Cushions
The cloth is Softened so we have added a softener to give it a silkier hand. The fabric has not been laundered so shrinkage will still have to be taken into consideration (shrinkage depends on fabric weave and laundering method).
Fabric specifications:
| | |
| --- | --- |
| Article | IL084 Narrow Width |
| Content | 100% Linen |
| Type | YARN DYE |
| Thread size warp | 11.6 |
| Thread size weft | 11.6 |
| Thread count warp | 38 |
| Thread count weft | 32 |
| Color | MLT-18 |
| Weight | 7.1 oz/yd2 |
| Width | 19 inch |
Customer Questions and Answers
I would like to order a green solid linen fabric that will go with IL084 narrow width Remy natural/ vineyard green. Thank you I would appreciate it if someone would help me which color I should purchase!!
Virginia • August 9, 2023
We have the Vineyard green color available on the same weight fabric in the wider width 4C22 heavyweight linen and also on the medium weight linen Il019. Here is the link: fabrics-store.com/all-fabrics?search=vineyard+green
Lauren • August 9, 2023
Is ;available in the blue, MLT-10?
Rebecca • April 19, 2023
The Claret colorway is sold out. Unfortunately, we do not have an expected ETA as too when/if it may return. Please check back in with us at a later date to see if we have received any updates on this item.
Maureen • April 19, 2023
I've ordered their fabric to make napkins and wanted this as a gift for my sister to use in her new kitchen. Had trouble with the promotion code and sent an email. They responded immediately, cleared up the issue and I had my beautiful fabric two days later. I can't wait to get stitching and might have to order more for myself!
MB • March 2, 2023
I used this shade of the linen, to make a table runner, for our daughter's Mother-in-law. She uses shades of blue and greens for decorating. It will be a gift this Christmas, so she hasn't reacted to it yet, but she liked the one made for our daughter!
Judith • December 14, 2021
I made towels; a previous reviewer stated the effectiveness of drying and she is right. I have no towel that dries like these. I'm not fond of how they look coming out of the dryer, but unless I am going to use where "upscale" company will see, what the heck! The cost for the towels is less than most stores, the look is nice. How about more colors and decorations?
Deborah • September 12, 2021
Having a simple table runner, is great for seasonal decoration! Great for a spring table setting, if you have China in coordinating shade. A nice hostess gift, or someone who enjoys "tablescapes" matching placemats or napkins turns it easily into a wedding gift! J
Judith • September 3, 2021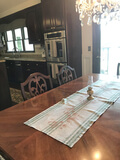 I made a table runner with matching dish towels (displayed on the handle of the oven) for my kitchen. After laundering, I did find that the salvage edge of the runner is longer than length in the center thus creating a wavy outer edge which refuses any attempt of correction through ironing. The material embroidered fine. I had used a "wash away" stabilizer which worked just fine for the line art embroidery design I had created for this runner.
Heike • August 10, 2022

Linen kitchen towels are the best and IL084 is perfect for this application. The towels in this picture were first hemmed (with selvedges left on), then washed in hot water and dried in the dryer to shrink the fabric, then washed again in hot water a shaken out, finger pressed/stretched and hung (or laid flat on counter, back of couch, whatever) to dry. The natural background color will continue to lighten a bit with repeated washing. Shown in picture (top to bottom) IL084 977, MLT-10 (Limoges), MLT-20 (Autumn Gold), MLT-18 (Vineyard Green), MLT-10 (Deep Claret) and MLT-17 (Dulse).
Marsha • September 15, 2021

E-MAIL
Please contact us by following the link below.
SUBMIT A REQUEST

PHONE
1-866-620-2008
Call us Monday through Friday 10 am - 6 pm PST
Once you are happy with your order, please proceed to checkout where you are able to review your order and estimated shipping charges before you complete payment. Shipping charges are calculated by the weight and location your order is shipping to.
You will be able to choose from the following options:
Standard Shipping: 4 - 8 Business Days
Expedited Shipping: 3 - 4 Business Days
Priority Shipping: 2- 3 Business Days
International shipping charges are also calculated at the time of checkout. Please note there may be fewer shipping options available to you as the options are based on the destination of your package.
Delivery times begin one business day after the order is placed with a 24-48 hour time frame for processing.This processing period applies to all in stock items and allows for the time needed to manually cut and package your order to ensure it is checked for quality and accuracy before it leaves our facility.
Business days are Monday - Friday, 9AM - 4PM PST. Saturday, Sunday and Holdays are not considered business days.
Sample color chips are sent via regular mail and may take up to a week to arrive.
All goods are subject to prior sale and please feel free to Visit My Order to check the most up-to-date status of your order.
Making a return is quick and easy, you have 30 days from delivery to return the item or items in their original condition (unwashed, uncut and unaltered). Please include a copy of your packing list and once the return is received we will contact you to see if you would like an exchange, a credit to your Fabrics-store account or the monies returned to your original payment method.
Ship Returns to:
Fabrics-store.com
6013 Scott Way
Commerce, CA 90040
HOW DOES FREE SHIPPING WORK?
Take advantage of our Free Shipping offer on orders shipping within the contiguous US.
Every day on orders of $150 or more - we will pay for your shipping.
Your order will be shipped Standard Shipping (4-8 Business Days) with the shipper of our choice. No international orders.
Standard shipping takes 24-48 hours for processing. Delivery times begin one business day after the order is placed. This is due to your order being manually cut and packaged to ensure quality.
Please note that some of our darker or more vibrant shades will have some residual dye run off or bleeding. It is important that you launder or treat like colors with like colors so that you do not compromise the integrity of any other colors, fabrics or garments during the launder process.
We also suggest that if you are combining one or more of these types of colors with lighter colors that you pre-wash the linens seperately and once the item is completed do not launder again, but Dry Clean.
Fabric Care
Machine wash cold.
Gentle cycle.
Only non-chlorine. Bleach if needed.
Tumble dry low.
Medium steam iron.
Do not use Perm Press cycle in wash or dry