IL090 - MIX NATURAL Softened
IL090 MIX NATURAL Softened - 100% Linen - Canvas (8 oz/yd2) - 20.00 Yards
Price:
$314.20 per item

Sale price:
$282.78 per item (10% off)
A heavier linen at 8.1 ounces it is referred to as canvas weight , this linen is perfectly suited for projects that require a sturdier yet still fashionable linen.
The cloth is Softened so we have added a softener to give it a silkier hand. The fabric has not been laundered so shrinkage will still have to be taken into consideration (shrinkage depends on fabric weave and laundering method).
Fabric specifications:
| | |
| --- | --- |
| Article : | IL090 |
| Content : | 100% Linen |
| Type : | BASIC |
| Thread size warp : | 9.1 |
| Thread size weft : | 9.1 |
| Thread count warp : | 36 |
| Thread count weft : | 25 |
| Color : | MIX NATURAL |
| Weight : | 8 oz/yd2 |
| Width : | 57 inch |
Reviewer: A
Absolute Beauty! The Natural Color and Texture, the Natural Sheen of the Linen, everything about this piece, is Simply Exquisite! It is far More Beautiful than what the computer screen can convey! The softness is remarkable! Bedding, Sheets are my first choice for this. But Anything! would be Superior, in every way, made of this Cloth!!
Reviewer: Judy
Mix natural is my favorite linen from fabrics-store. The not so subtle texture and color variation makes for eye catching garments and furnishings. A perfect blend of structure and drape. This weight is perfect for slip covers.
Reviewer: A
Wow! This Fabric is something to Behold! Exquisite hand! Soft and Drapey with Substantial Body, and a Beautiful Sheen! All Natural Beauty! What a Gorgeous piece of goods!
Reviewer: heidi
I had slipcovers made for 8 chairs and had 2 captain chairs upholstered. I get compliments on them all the time.
Reviewer: Janet
I took a piece of leftover fabric from my towel making and cut it up in rectangles to make lovely kitchen towels. With the remainder, I had 12 x 12 squares and hemmed them to make some washcloths to try out. Wonderful! I really like these and may have to order enough additional fabric to make a set for our home. These would be great in the kitchen also but I love showering with them..perfect washcloths for the shower and my skin feels extra clean and polished! These are wonderful and will last for many years. Linen is an incredible fabric and I love using it in my daily life! My sewing machine grumbled a bit when I sewed the corners of these but with gentle guidance, it is possible to quickly construct my washcloths and towels.
Reviewer: Tamar
For RAGBRAI last summer (annual great bike ride across Iowa in late July), we made a sleeping bag of this linen with a wool batting quilted in one side, and just two layers of this linen for the other side. Despite sleeping on the ground in a tent in late July in Iowa, we were so comfortable as this fabric is so breathable! This is a fantastic fabric, washes very well, irons easily and just gets better with use. I line dry it always as I don't have a clothes dryer.
Reviewer: Janet
I whipped up a set of eight large bath towels with the fabric I ordered and what luxury!! So textured and thirsty and they dry so quickly after my shower. I love these so much and will never use another terrycloth towel in my life. I shudder to think of those nasty old towels and how they never seem to get dry! My life has changed completely with all the linen I have purchased from this great store.
Reviewer: Janet
This is a heavy beautiful fabric, and in the Mix Natural, you can't find a better color! I have so far only washed it once and it feels so wonderful on my skin. I am going to make a big blanket for my bed with this...just cannot decide if I want one layer or to sew two layers together and then turn right sides out. It does not get any better than linen for any application and no better place to get that linen than Fabrics-Store.com!! I can't wait to sew this up and sleep under it....heavenly!!
Reviewer: Tamar
My sweetheart made me a pillow case of this beautiful fabric. Because the rest of my linen bedding is very smooth, high thread count fabric, I was skeptical that this more rustic fabric would be comfortable as it looks so rustic. Was I wrong! This is my favorite pillow case EVER, and now I've got 3 of them. I think it's the additional micro air spaces that make it feel so good. I live in an interior valley in California where we have scorching hot summers, and this heavy fabric is keeping me cooler! It's not rough on my face at all, just feels wonderful. I anticipate this fabric will be fabulous year round, and will make cotton flannel cases no longer necessary in the winter.
Reviewer: Christy
Wasn't sure if I would like neutral linen drapes after bright silk drapes but it looks wonderful. The staff was wonderful to deal with and shopping was fast. Very satisfied!
Reviewer: Janine
I used this fabric to cover gatorboard for a custom textile mount. It has a good substance -- heavy but not too heavy. And folded around the edges with a nice sharp crease.
Reviewer: Valerie
I received some linen as a gift that I thought would make a great duvet. I needed more to complete the project so I bought eight yards of the heavy weight natural and it matched perfectly! I love it. So excited to get started and use my new bedding!
Reviewer: Cyndi
this was the perfect fabric for my new slipcover sturdy but not stiff. love the look of linen slipcovers Great price too.
Reviewer: Rita
We moved into our new house and this fabric looks wonderful as new draperies. I receive complements on the color and quality of the fabric. They look gorgeous and high end. I recommend this fabric and love the neutral color with the texture and the ability to see the weave with the slightly darker and lighter threads. I made inverted pleats and lined them and they are so beautiful and will last for years. My wall color is moth grey and they complement it. I looked a long time to find this fabric and received samples and great service from fabric-store.com
Reviewer: Steven
I have used this for 1750s &rev war trowsers . I also use it for linen haversacks its strong and has a period look. great linen. . BLUE BOX SUTLERY
Reviewer: Terri
Bought this fabric to complete our colonial "bed-hangings" project at the Josiah Dennis Manse Museum in Dennis, on Cape Cod. We have finished the crewel embroidery on the valence using fabric woven by one of our docents. The backing and the canopy fabrics are of donated antique linen, and this purchased fabric will be used for the curtains and headboard panel on our 1735 pencil post bed. The colors of all these fabrics blend perfectly! I'll send a picture when we get the bed "finely dressed" for our June 21st opening.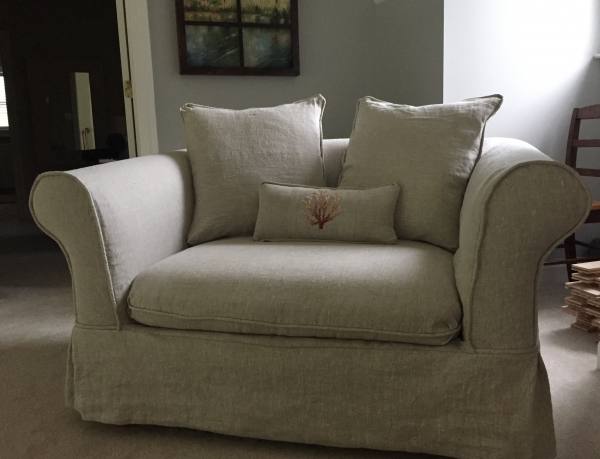 IL090 MIX NATURAL Softened 100% Linen Canvas (8 oz/yd2)
Thought this fabric was great to work with. Washed and dried on line. I would recommend drying in drier as it has more stretch than expected. Great fabric beautiful color and texture. Company very responsive to questions. Thank you, Martha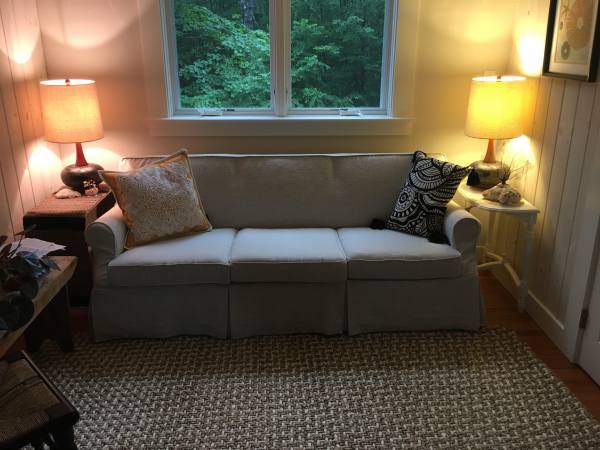 IL090 MIX NATURAL Softened 100% Linen Canvas (8 oz/yd2)
Our curtains turned out perfect! This fabric is gorgeous and perfect for curtains.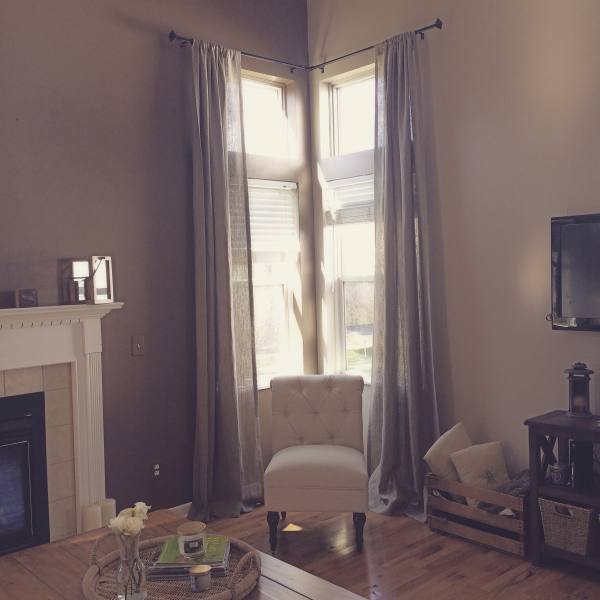 IL090 MIX NATURAL Softened 100% Linen Canvas (8 oz/yd2)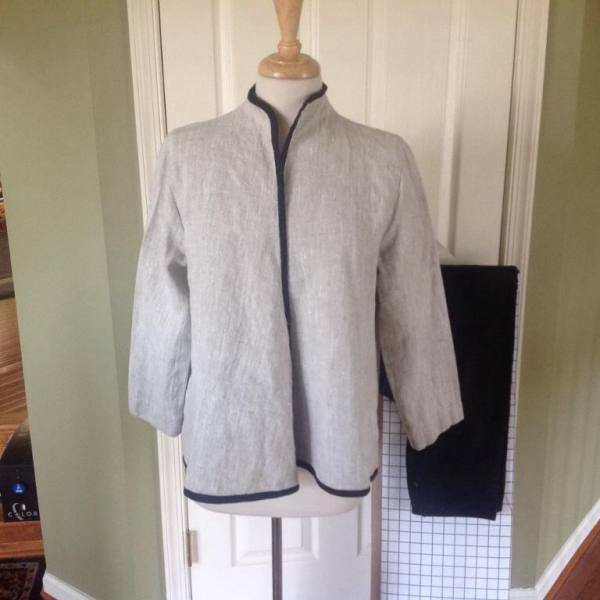 IL090 MIX NATURAL Softened 100% Linen Canvas (8 oz/yd2)
Kimono jacket from a Katherine Tilton pattern.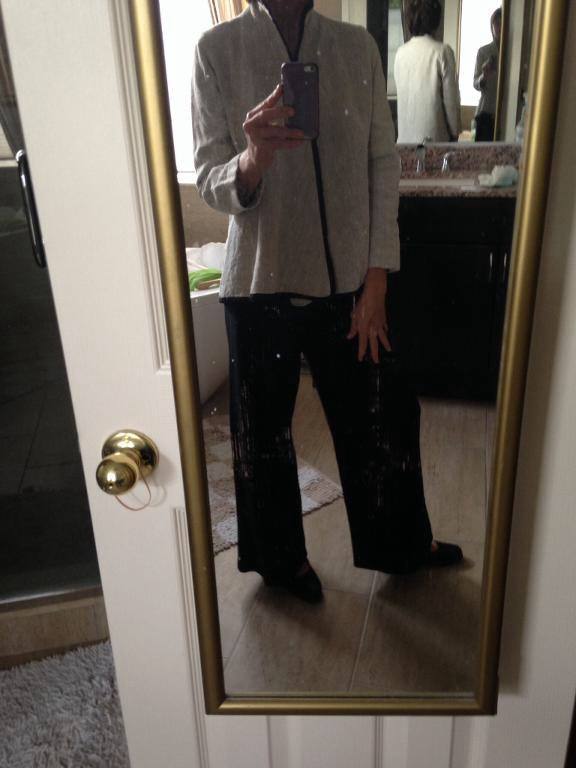 IL090 MIX NATURAL Softened 100% Linen Canvas (8 oz/yd2)
Headboard panel of the 1736 Josiah Dennis Manse Museum project is still a work in progress. It is on display in the summer season and the talented needlecrafters take turns working on the panel in the winter. A plain headboard panel of IL090 is in place when the crewel embroidered one is "traveling".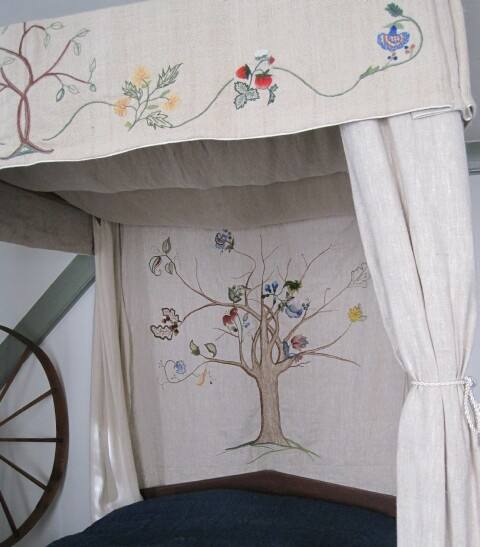 IL090 MIX NATURAL Softened 100% Linen Canvas (8 oz/yd2)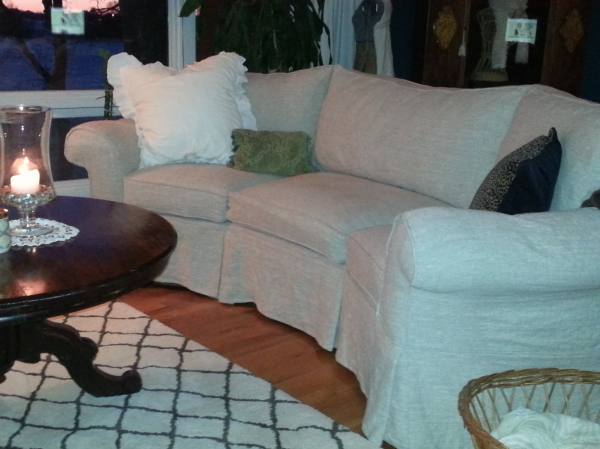 IL090 MIX NATURAL Softened 100% Linen Canvas (8 oz/yd2)
Headboard panel is still a work in progress.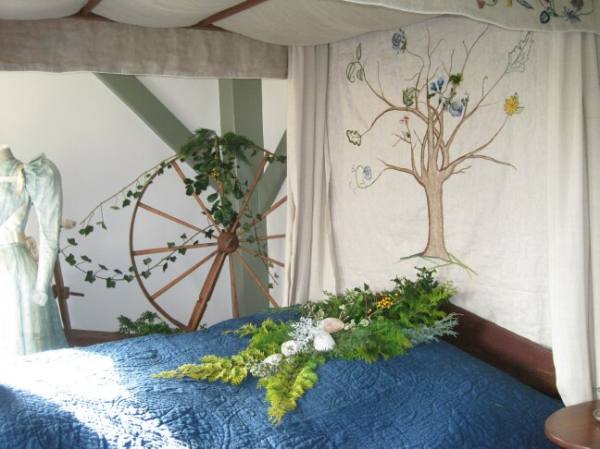 IL090 MIX NATURAL Softened 100% Linen Canvas (8 oz/yd2)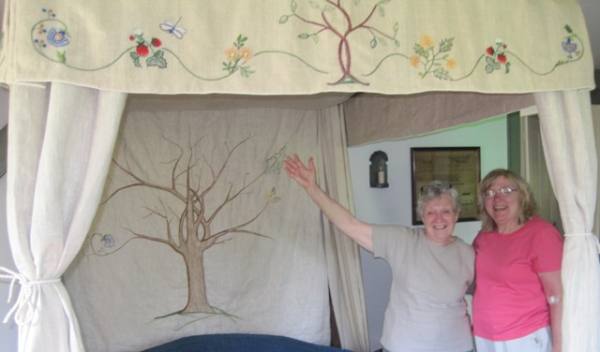 IL090 MIX NATURAL Softened 100% Linen Canvas (8 oz/yd2)


IL090 MIX NATURAL Softened - 100% Linen - Canvas (8 oz/yd2)
Sample Size: 2" x 3.5" (Including Swatch Card)
Free Standard Shipping
* Samples are pre-assembled and may not come from the same fabric bolt you order from. Color may vary. All fabric samples are shipped via USPS without tracking.

E-MAIL
Please contact us by following the link below.
SUBMIT A REQUEST

PHONE
1-866-620-2008
Call us Monday through Friday 10 am - 6 pm PST
Once you are happy with your order, please proceed to checkout where you are able to review your order and estimated shipping charges before you complete payment. Shipping charges are calculated by the weight and location your order is shipping to.
You will be able to choose from the following options:
Standard Shipping: 4 - 8 Business Days
Expedited Shipping: 3 - 4 Business Days
Priority Shipping: 2- 3 Business Days
International shipping charges are also calculated at the time of checkout. Please note there may be fewer shipping options available to you as the options are based on the destination of your package.
Delivery times begin one business day after the order is placed with a 24-48 hour time frame for processing.This processing period applies to all in stock items and allows for the time needed to manually cut and package your order to ensure it is checked for quality and accuracy before it leaves our facility.
Business days are Monday - Friday, 9AM - 4PM PST. Saturday, Sunday and Holdays are not considered business days.
Sample color chips are sent via regular mail and may take up to a week to arrive.
All goods are subject to prior sale and please feel free to Visit My Order to check the most up-to-date status of your order.
Making a return is quick and easy, you have 30 days from delivery to return the item or items in their original condition (unwashed, uncut and unaltered). Please include a copy of your packing list and once the return is received we will contact you to see if you would like an exchange, a credit to your Fabrics-store account or the monies returned to your original payment method.
Ship Returns to:
Fabrics-store.com
6013 Scott Way
Commerce, CA 90040
HOW DOES FREE SHIPPING WORK?
Take advantage of our Free Shipping offers on orders shipping within the contiguous US on the following days:
Every Monday and Wednesday on orders of $150 or more.
Every day on orders of $1,000 or more.
Your order will be shipped Standard Shipping (4-8 Business Days) with the shipper of our choice. No international orders. Standard shipping takes 24-48 hours for processing. Delivery times begin one business day after the order is placed. This is due to your order being manually cut and packaged to ensure quality.
Please note that some of our darker or more vibrant shades will have some residual dye run off or bleeding. It is important that you launder or treat like colors with like colors so that you do not compromise the integrity of any other colors, fabrics or garments during the launder process.
We also suggest that if you are combining one or more of these types of colors with lighter colors that you pre-wash the linens seperately and once the item is completed do not launder again, but Dry Clean.
Linen
Machine wash cold.
Gentle cycle.
Only non-chlorine. Bleach if needed.
Tumble dry low.
Medium steam iron.
Semilinen
Machine wash cold.
Gentle cycle.
Only non-chlorine. Bleach if needed.
Tumble dry low.
Medium steam iron.