IL019 NATURAL - 100% Linen - Middle (5.3 oz/yd2) - 20.00 Yards
Price:
$298.00 per item

Sale price:
$268.20 per item (10% off)
Natural is the earth made, not dyed, color of the flax plant once it is made into thread. No dyes, no bleach. The only thing that impacts the color of the cloth from one production to the next ( if it is more beige or grey) is the amount of sunshine and rain that particular flax harvest had.

At a medium weight of 5.3 ounces, this 100% linen is versatile enough to be referred to as an All Purpose or Do it All linen. With its smooth look and tighter weave, this linen is neither sheer or heavy, but just the right in-between weight you will need for a variety of projects.
Fabric specifications:
| | |
| --- | --- |
| Article : | IL019 Multi Purpose |
| Content : | 100% Linen |
| Type : | BASIC |
| Thread size warp : | 17.9 |
| Thread size weft : | 17.9 |
| Thread count warp : | 46 |
| Thread count weft : | 37 |
| Color : | NATURAL |
| Weight : | 5.3 oz/yd2 |
| Width : | 59 inch |
Reviewer: Nancy
High quality fabric. Fast shipping.
Reviewer: Sylvia
I made a jacket and kitchen towels with this fabric. The towels hang on the bias from my oven handle using a crocheted triangle that allows them to loop and hang. They are absorbent! The jacket is unstructured with a clasp in front. I love the look of this fabric, so eye catching.
Reviewer: Heidi
My favorite natural linen. I use it for my clothing line, I've made pillowcases, patchwork quilts and curtains out of it too. I love over-dyeing it with indigo and other natural dyes.
Reviewer: Roxy
I bought several colors of linen for my Tina Givens patterns. They are all in the medium weight, and I love all the colors I got. I would like for Fabrics-Store to say if the color is for a warm or cool skin tone, especially the greens and browns. I washed them all in the machine, machine dried (but not bone dry) and they are all fine, ready to press and cut out my patterns. I also appreciate that they come wrapped in plastic, for the chance that it is raining when the delivery leaves on the front porch.
Reviewer: Marti
This is a great source of linen. Not all are created equal. This fabric is beautiful.
Reviewer: A
Love love! ... this Fabric! Using the 4C22 in Natural right now, for a Bottom Sheet and it is Marvelous! The IL019 will be perfect for warmer nights. Also a top sheet. The 100% Natural Linen Fiber is Unbeatable for "Breathability!" The short staple fibers air out Beautifully! Love sleeping on the Natural Texture! Just Wonderful!!!
Reviewer: Lindsey
I love this website and every linen i've purchase so far. This tan linen is beautiful, it has a 'cereal' smell to it which I think is great, must be because it's natural. :) I'm going to make a pair of pants and possibly more out of it. Excited to use it and see how it wears over time. Once washed it seems to feel softer, so i'm sure the comfort level will be good.
Reviewer: Cecilia
I've just received and I'm still perfecting the pattern with muslin and a random piece of woven from a local shop before I cut into all my beauties from the Fabric Store!
Reviewer: Ron
This is a very strong, sturdy linen that just gets nicer with every wash. Will be ordering more!
Reviewer: Alexandra
I'll be making a pair of hobbity pants out of this. It's pretty sturdy even after being washed. I think it'll stand up to wear for a while
Reviewer: Sallie
Love this linen - made rustic window curtains for my new mountain home. Prewashed and dried, then cut to the measurements I needed. Love the "rough dried" appearance, and that the fabric allows some light to filter through and still provides privacy. Very pleased with the company's service, too. This is the 5th time I have ordered linen from this company.
Reviewer: Loretta
Another beautiful all purpose linen from the F/S, nice contrast to the "mix natural" linen. A bit more rustic than the IL019 color collection, however, the same wonderful hand. GREAT customer service, thank you Maureen!
Reviewer: Diane
I made the sheet pattern using the Natural 1019 for a CA King Size Sheet Set. Actually, it was pretty easy just a little scary at first, but was easy just time consuming. I made the matching pillow slips and added some 3 inch lace to them. I have an older bed, and appeared as tho the sheets were a little large. They are not and they lay flat, and feel so good. I may decide to make another set at some point. Do not be intimidated, give it a try. You will be glad you did. It does take time but it is easy to do and so rewarding.
Reviewer: Diane
I had intentions of sewing a fabric curtain for a doorway between a bedroom and closet, but this fabric looks awesome with raw and selvage edges for my use. I simply used Ikea curtain hooks & wire to attach it. The weight is perfect for so many applications as it drapes and puddles nicely if you're doing something like a curtain. Thanks Fabric Store for the quick shipping and great service.
Reviewer: Wanda
Already made plans for my 10 yd purchase. When projects completed I might buy more. It's just that good!
Reviewer: Aaron
This fabric is more than what I expected. Love the texture, color, and feel. Has a nice grain smell to it aswell. Will buy more of this natural color.
Reviewer: Melessa
love this color and texture. Will be making a shower curtain from it. Price was very reasonable.
Reviewer: Linda
A customer requested a valance for her window made out of linen and embroidered with her monogram initial. She was thrilled with the result. Love this linen. Easy to sew and great to work with in general. whimseacottage.etsy.com
Reviewer: Janet
I am very pleased with this linen. There was slight shrinkage - about 2% in the length and none in the width (60\" after hot washing). I have read the detailed instructions which one of your reviewers has posted for laundering linen. These look like excellent advice for laundering any fine plant fiber. The problem is I wanted a good sturdy utilitarian natural fabric to make an every-day shirt for my son who is not always careful with his laundry. This non-softened natural linen seemed like a good choice. Time and repeated washings will tell. This was a pleasure to sew. I live off the grid, have limited electricity and can't use an electric iron. With this linen, it was easy to "finger press" the seams. My son is very happy with his new shirt. I plan on using the same fabric to make an every-day skirt for myself.
Reviewer: Diane
This linen, unwashed, is crisp and slightly stiff. I washed/dried it in hot temperatures and it softened up. Ironing it restores the crisp texture, but it has a pleasantly soft hand overall. The color is somewhere between a golden beige and light gray: "greige"? It is a lovely neutral. Intended end use will be napkins or kitchen towels.
Reviewer: Barbara
This is one of the most versatile colours I have come across. It has a wonderful character on its own but it is also well suited to complement just about every colour of the spectrum. The quality is top notch as well. My mind is racing at the possibilities of what this gorgeous linen can be used for.
Reviewer: Ann
I used this linen for a quilt smashing and backing,then reordered just to have on hand. Scraps were used for embroidered shoe bags. I love the feel of this and the color is such that it goes well with just about anything. I am now using it for pillowcases. Love it!
Reviewer: Cheryl
I had no idea what I was getting when I ordered this. I am happy, it is different from what I was going to use it for, so now I have to be creative. That bag was a good idea. I am always happy with my order and now I order a swatch first, it really helps, and it comes really fast no doubts about the color or texture, Thanks again,
Reviewer: Claudia
While I like the fabric, the color doesn't even come close to that in the photo. It is really a dark taupe shade. Now my decision is where I can make use of it as it is not the correct color to go with my scheme.
Reviewer: Akiko
I wasn't sure ordering fabric without looking at it. The price was very attractive. I am glad that I took the chance. I thought texture was little bit coarse and heavy side at first, but prewashing it couple of times before sawing solved the problem. Make sure when you first wash it, wash it seperately in cold water. I washed it with other fabric, and it transfered the color and lint. The more you wash it, it seems fabric feels softer. I really like the natural look of this fabric. I am thinking about buying this fabiric in different color next time, and Would recommend to all!
I make wine bags for a local winery. Most have been with quilting fabric but this time I tried my hand at free motion quilting on ILO19 natural, coloring in with Inktense. It sold right away!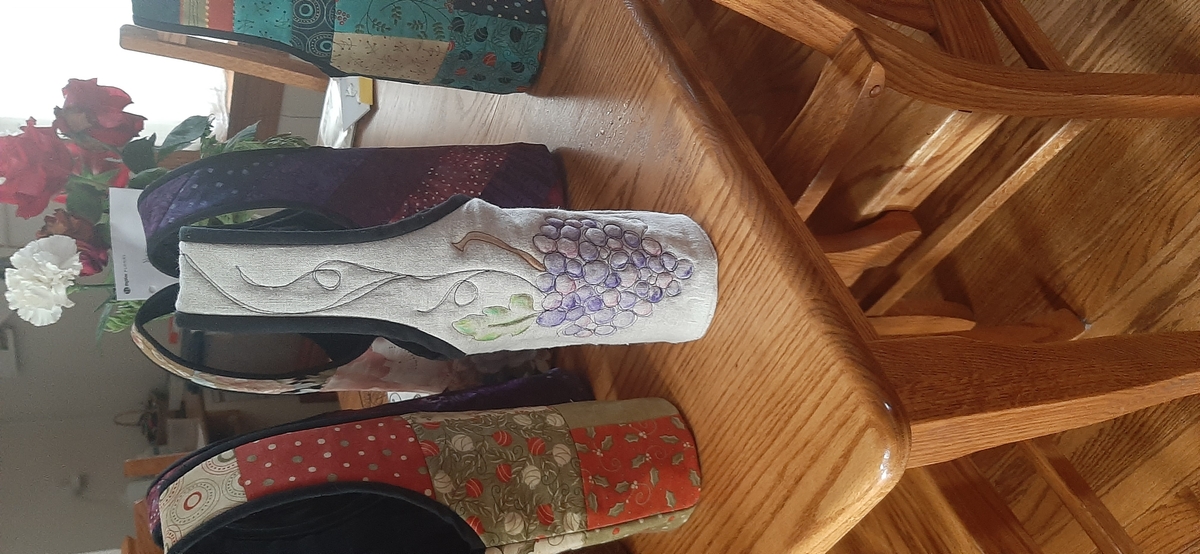 IL019 NATURAL 100% Linen Middle (5.3 oz/yd2)
So pleased with this linen. It was nice to sew with for this bag.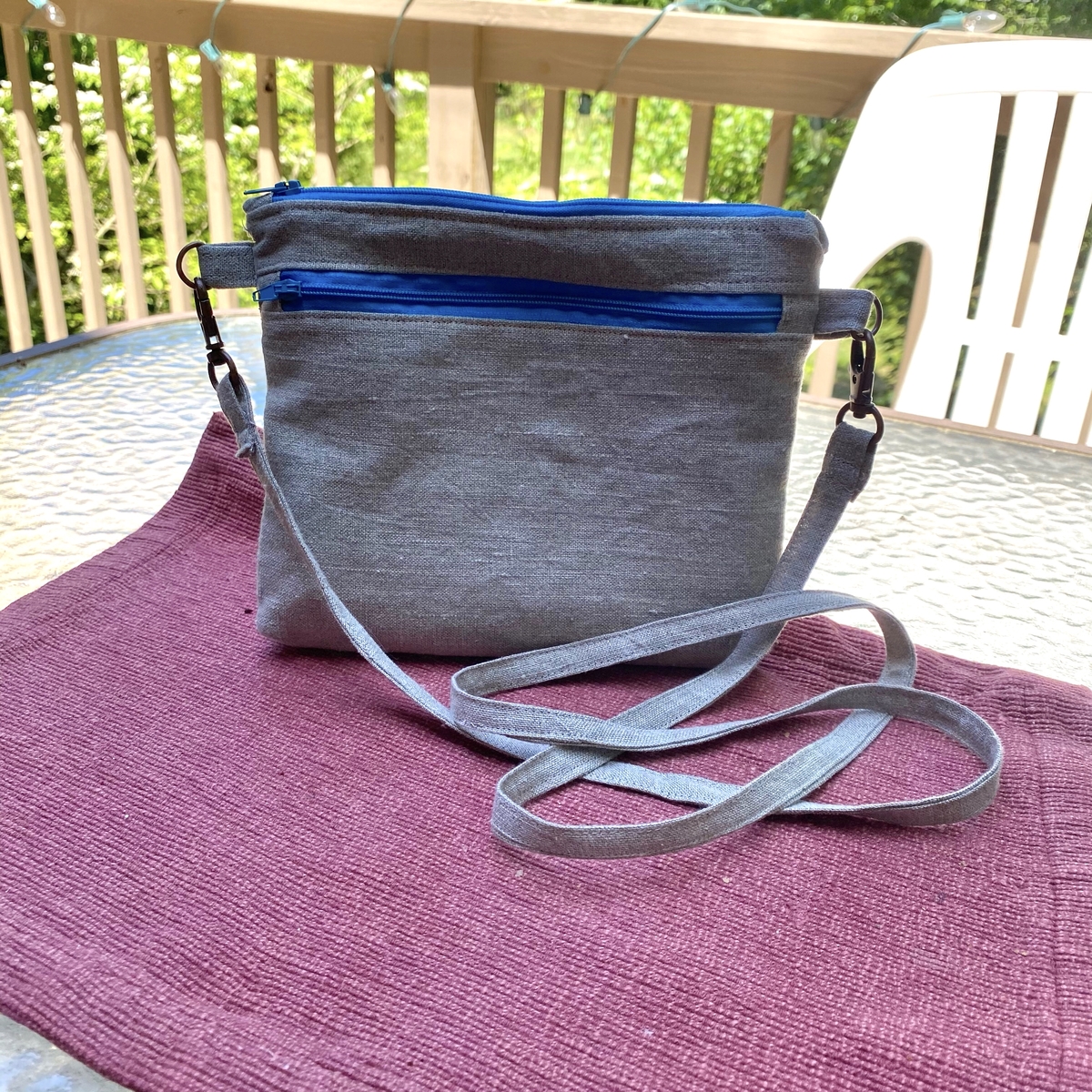 IL019 NATURAL 100% Linen Middle (5.3 oz/yd2)
I often make a shirt for my husband for his birthday, and this year I made one out of the wonderful IL019 Natural softened, using black topstitching to enhance the subtle black shade in the background of this linen. He loves it. As my mother would have said, this fabric has a great hand. Thanks also to McCall's pattern 7196.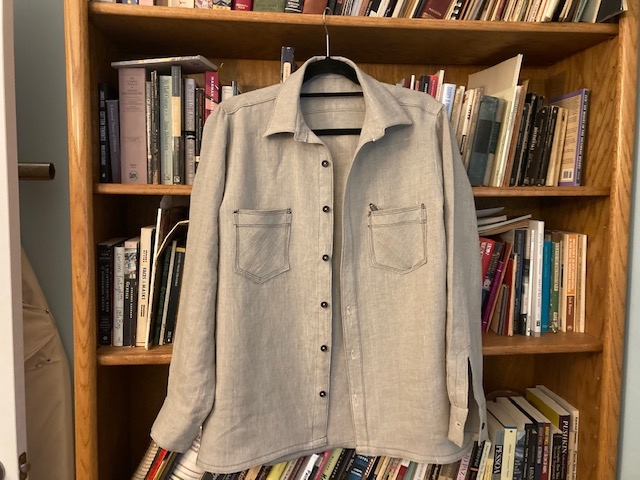 IL019 NATURAL 100% Linen Middle (5.3 oz/yd2)
I used the natural to make unlined reverse pleat drapes for my living room. Love the warmth and texture they provide. This fabric is easy to work with and sews up beautifully. As a customer from Canada, I'm happy to know that only there is no duty on fabric and when sent via FedEx Express, no brokerage charges, just local taxes. The delivery was just over a week. Great service and a great product. I'm looking forward to many more linen projects in my future!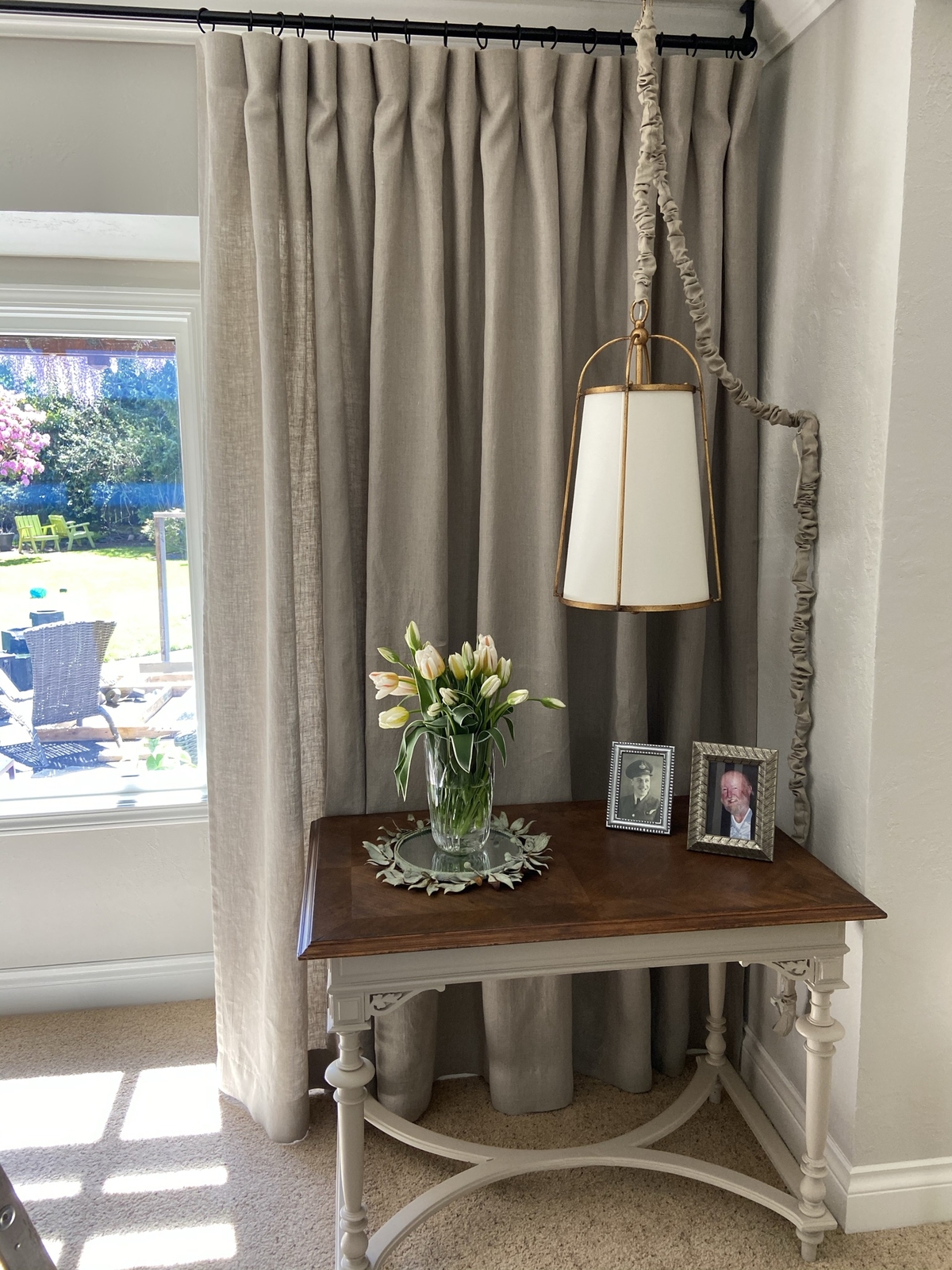 IL019 NATURAL 100% Linen Middle (5.3 oz/yd2)
We make monogrammed baby book with journaling inside pages from; waycooldesigns.com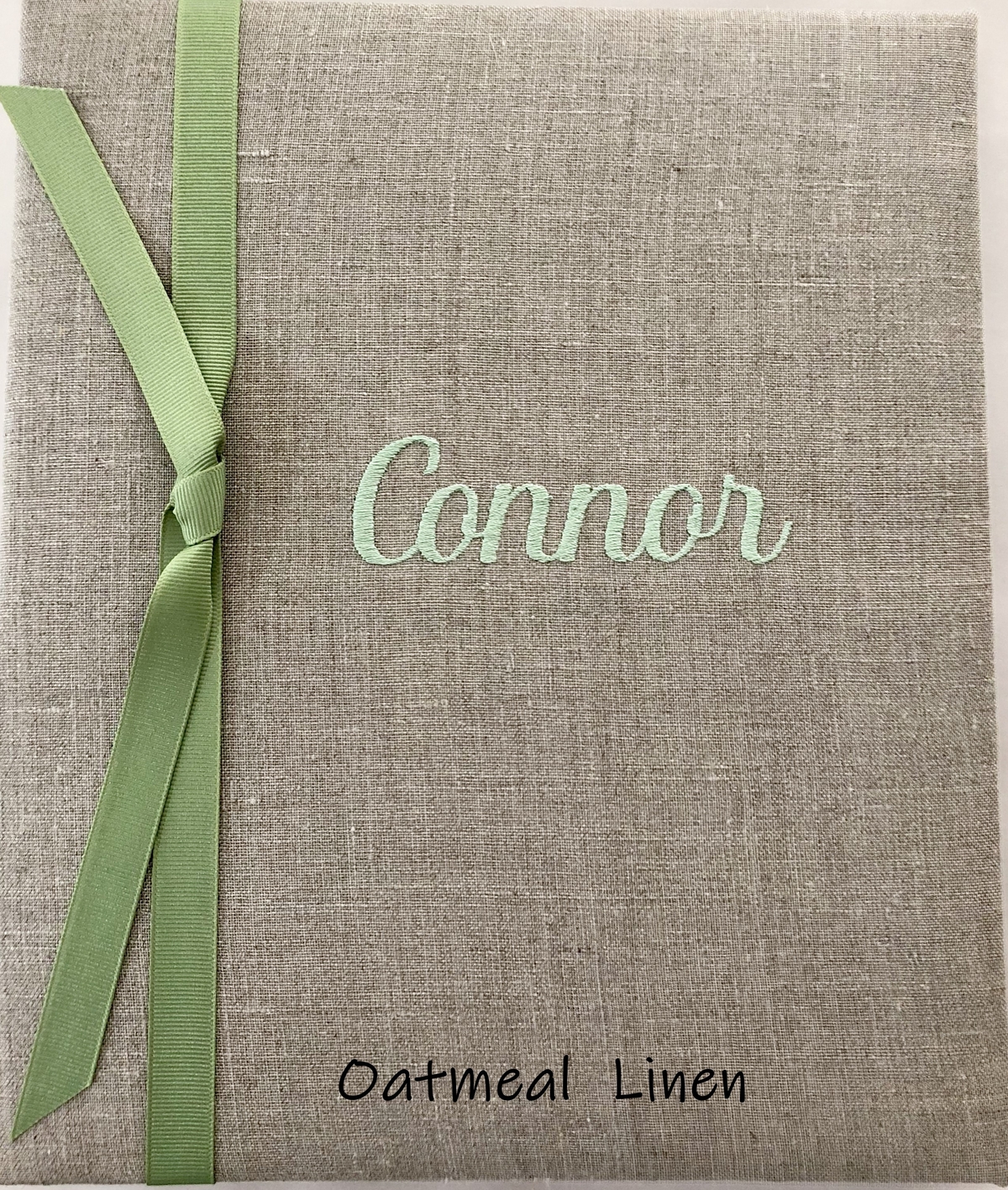 IL019 NATURAL 100% Linen Middle (5.3 oz/yd2)
Free FS Pattern - MAGDA Pants made in IL019 Natural Linen to pair well with anything in my closet. You can find more info about this project here: blog.fabrics-store.com/2021/02/18/pattern-review-magda-pant-in-natural-linen/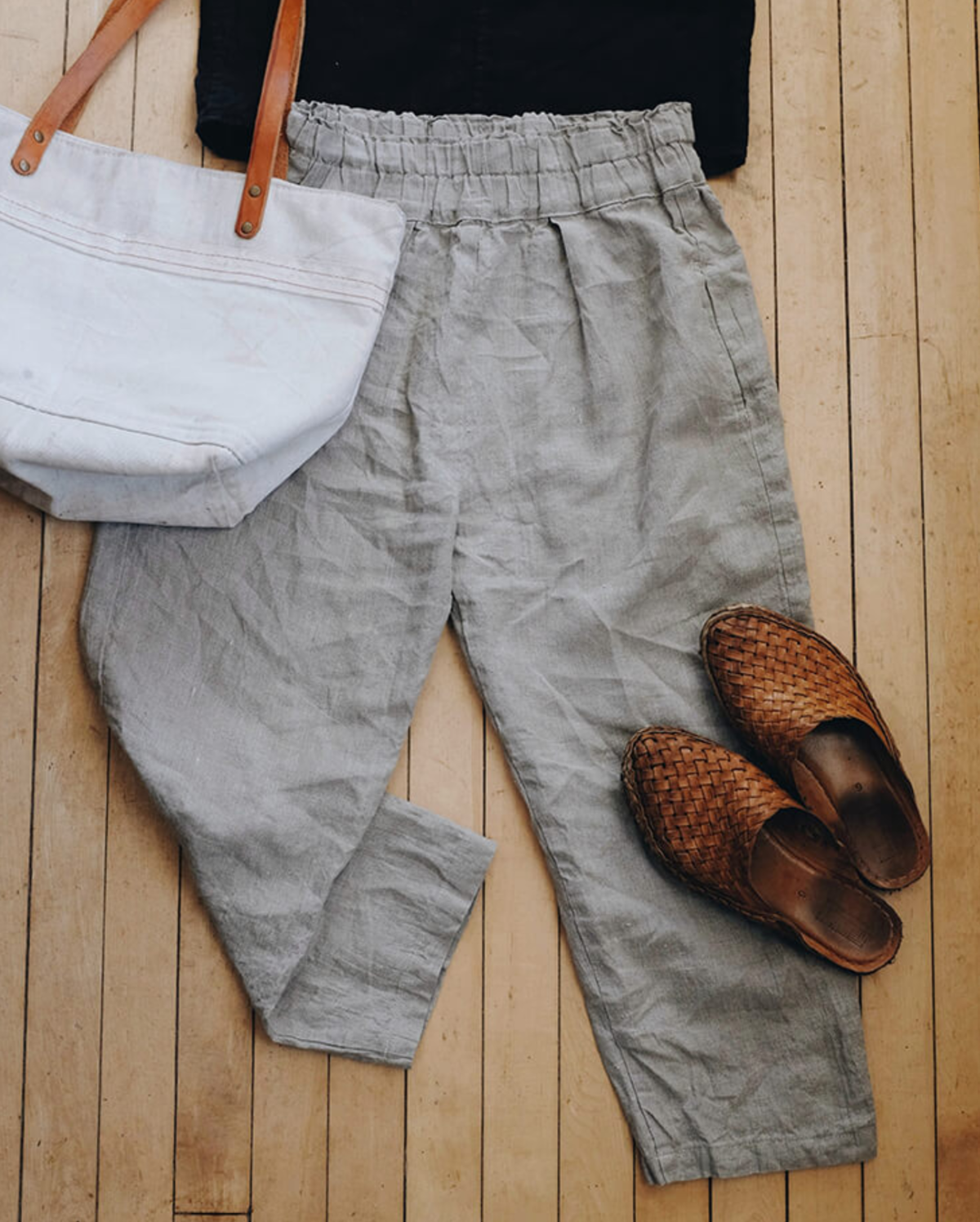 IL019 NATURAL 100% Linen Middle (5.3 oz/yd2)
I love this fabric! I wasn't sure what to make with the .30 yd remnant so I sewed two strips of a lighter color linen to make it wide enough for a nice sized pillow. I'll definitely order more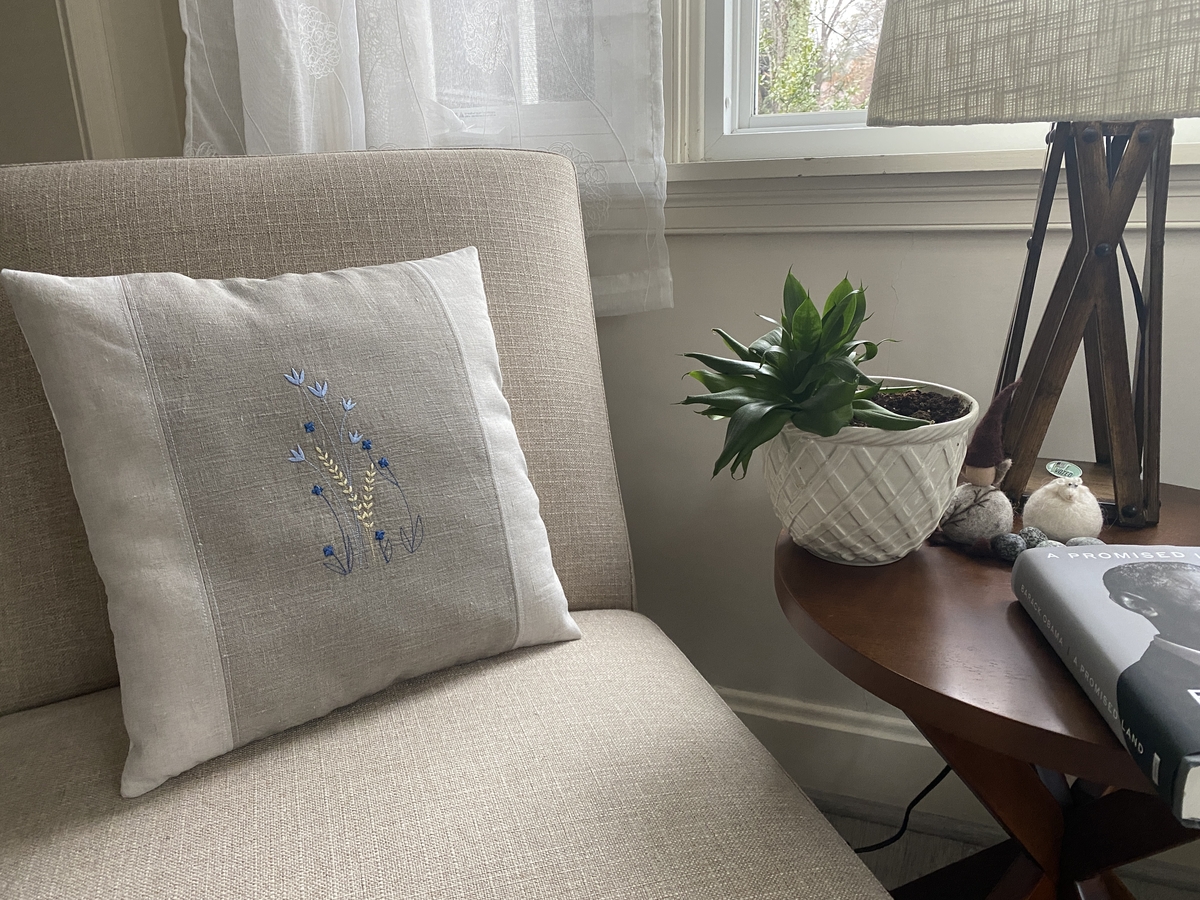 IL019 NATURAL 100% Linen Middle (5.3 oz/yd2)
CHARLIE Pant in the medium weight natural linen for its neutral color, which will be easily paired with many tops in my wardrobe.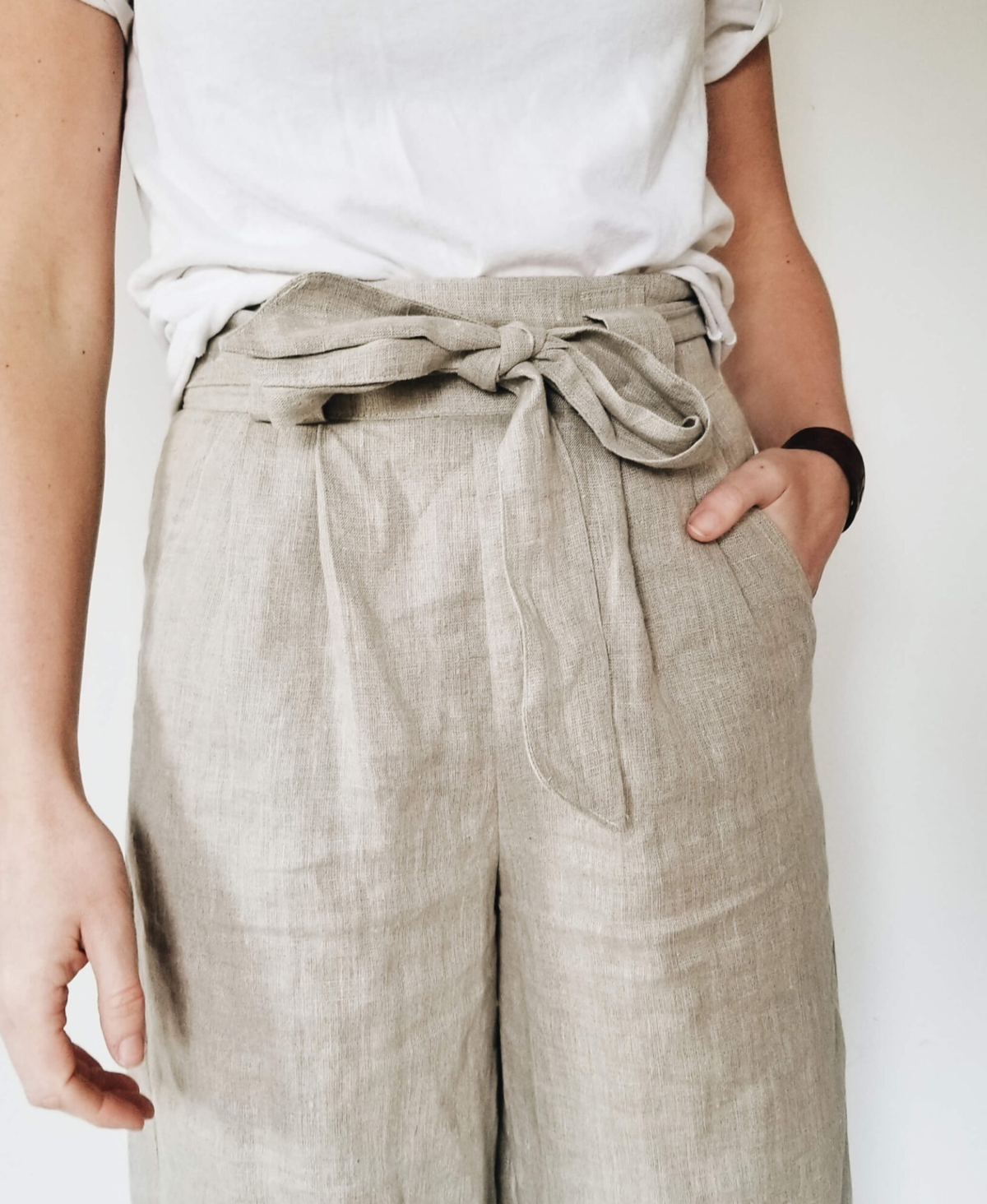 IL019 NATURAL 100% Linen Middle (5.3 oz/yd2)
This is our natural linen fabric that shoppers can use for either monogrammed wedding or baby books. We add jouraling inside pages with the book for one low price. Check us out at; waycooldesigns.com We have been shoppers happy for 30 years, Susie and Bob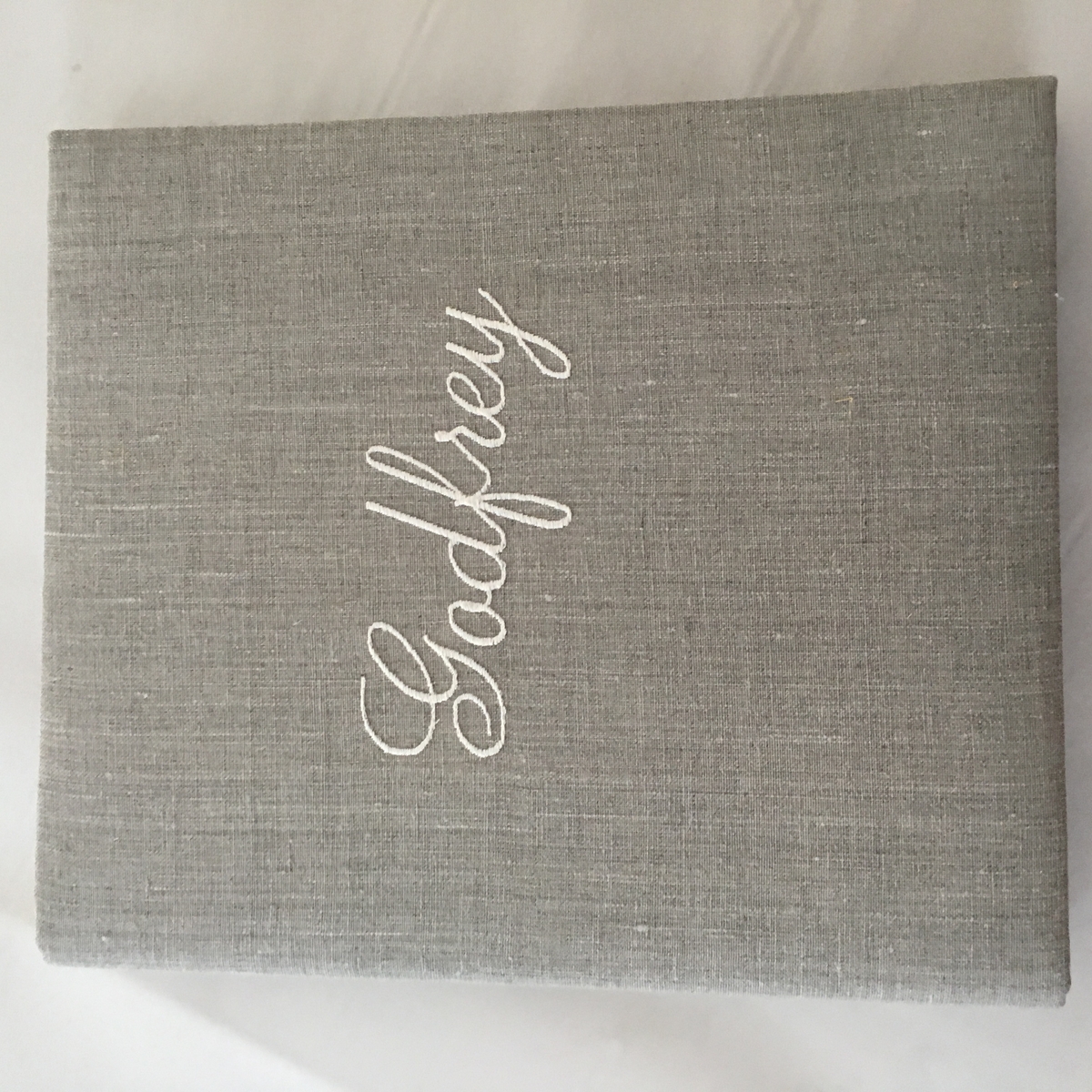 IL019 NATURAL 100% Linen Middle (5.3 oz/yd2)
No sewing required! I just turned over several inches at the top and attached it to an easy-to-install Ikea curtain wire with clip on hooks. Easy peasy. The linen drapes nicely and puddles on the floor. I had no idea how heavy 5.3 oz weight was, but it was perfect.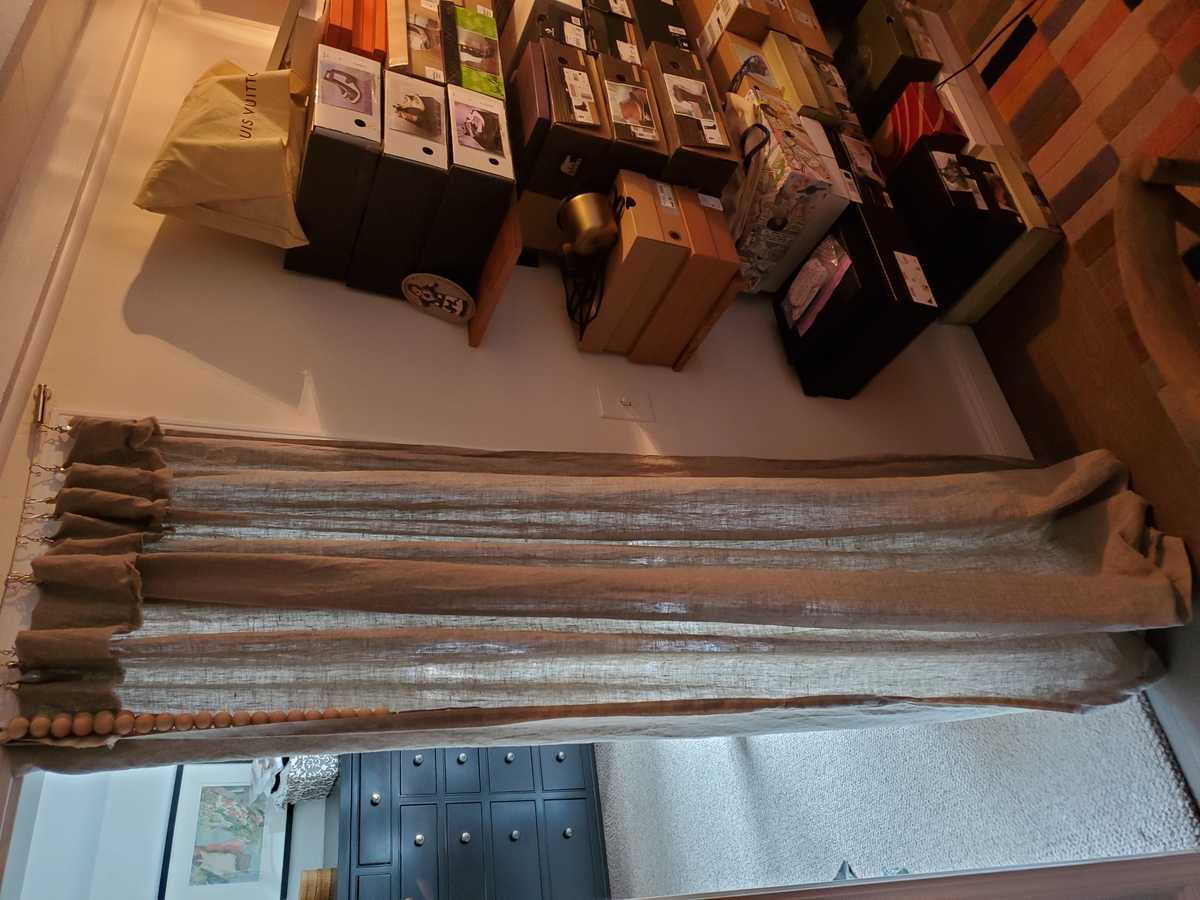 IL019 NATURAL 100% Linen Middle (5.3 oz/yd2)
Linen IL019 Natural. Pattern N6604. Purchased this linen from the Doggy Bag section and am glad I did. It sews like a dream and only needs a light iron. It washes well and is perfect for hot summer days.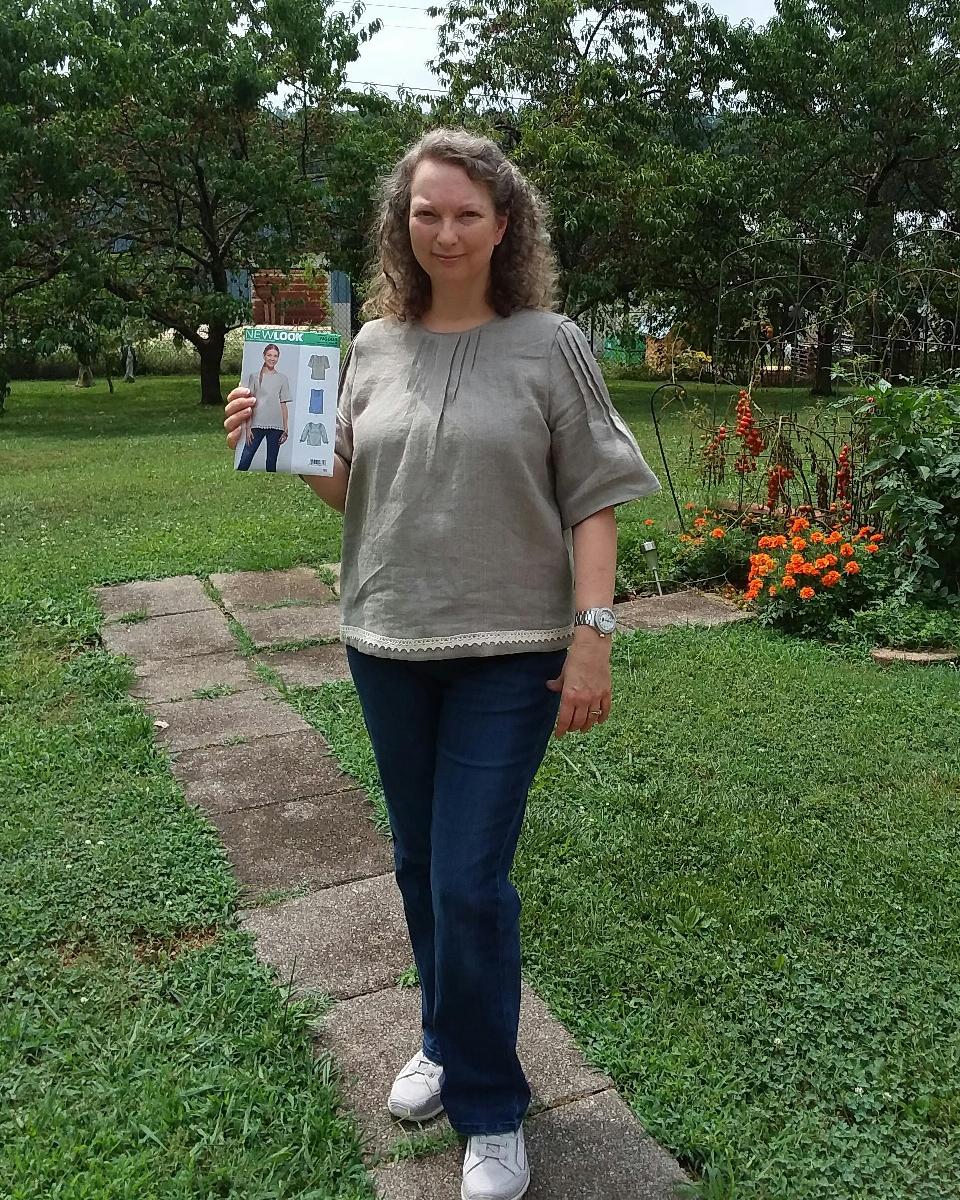 IL019 NATURAL 100% Linen Middle (5.3 oz/yd2)
Natural linen, medium weight, with lace and monogram. Button back.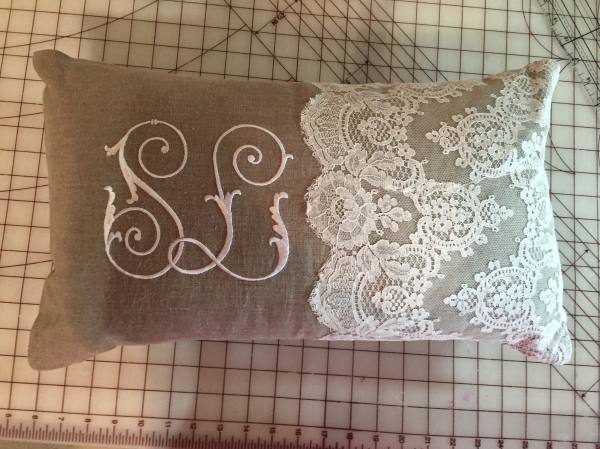 IL019 NATURAL 100% Linen Middle (5.3 oz/yd2)
Custom made valance with embroidered monogram. From Whimsea Cottage on Etsy.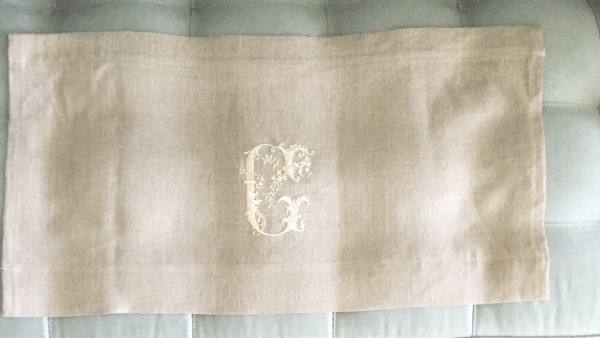 IL019 NATURAL 100% Linen Middle (5.3 oz/yd2)
The perfect choice for tea towels and pairs beautifully with so many colours. My favourite basic in linen that I love having on hand!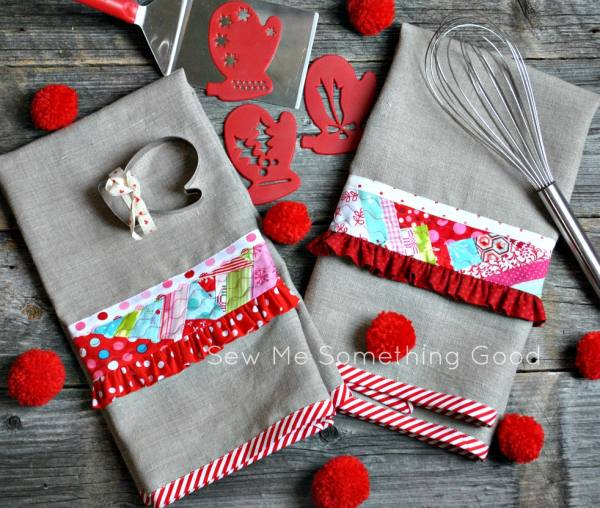 IL019 NATURAL 100% Linen Middle (5.3 oz/yd2)
Natural linen used for an upholstery redo of a very old chair and a new matching modern accent pillow.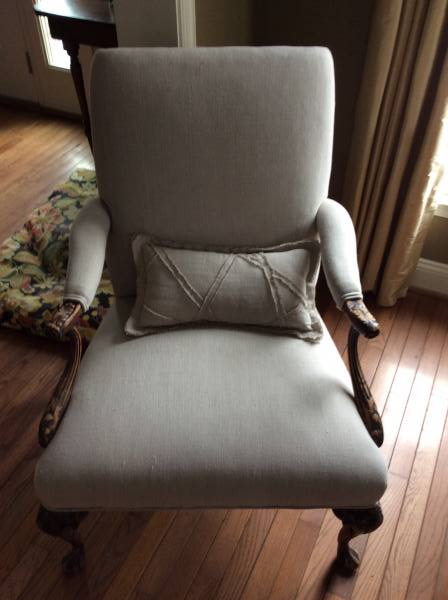 IL019 NATURAL 100% Linen Middle (5.3 oz/yd2)
I bought this unbleached linen to make a new tree skirt. It washed up so soft and interesting that I couldn't bring myself to iron it!! Trimmed it up with a ruffle of your taupe/cream bubble linen (also awesome) and I couldn't be happier!! Working on my new, slightly rumpled Christmas Stockings!! Thanks so much for a fabulous product!!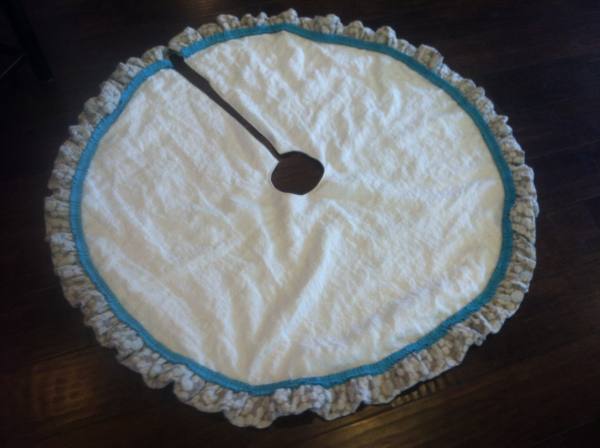 IL019 NATURAL 100% Linen Middle (5.3 oz/yd2)
This is an embroidered baby shower gift I made for a friend. The mother-to-be loved her framed embroidery and already placed in the nursery. I love this fabric! My embroidery design sewed out perfectly! The order process was simple and shipment arrived as expected, I love the feel, the weight, the overall look and will order again and again. Thank you. Donna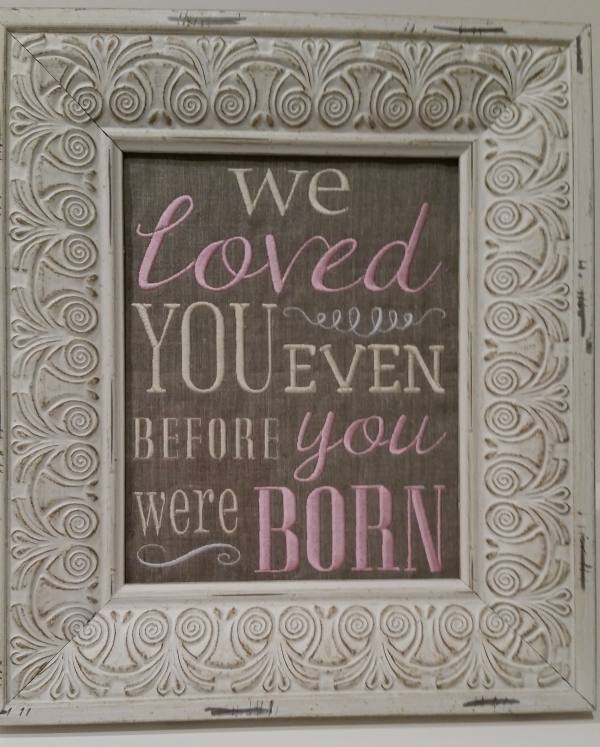 IL019 NATURAL 100% Linen Middle (5.3 oz/yd2)
This is a quilt I made for a friend's baby shower. It was originally going on the food table, but ended up using it on the gift table to prevent spills. The back is the solid lighter/almost 2-tone natural color linen. Very happy with how it turned out. The linens are different weights, but they all work well together. (And they loved it:)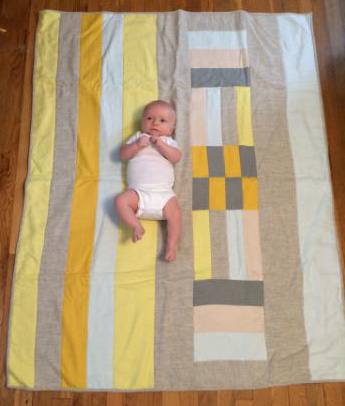 IL019 NATURAL 100% Linen Middle (5.3 oz/yd2)
I was so thrilled with the quality of these linens. I made placemats. a table runner and napkins for my daughter's wedding. I used the IL019 Natural, IL019 Sphynx and IL020 Krista natural softened. These were exactly what I wanted, and I was thrilled with the quality and price.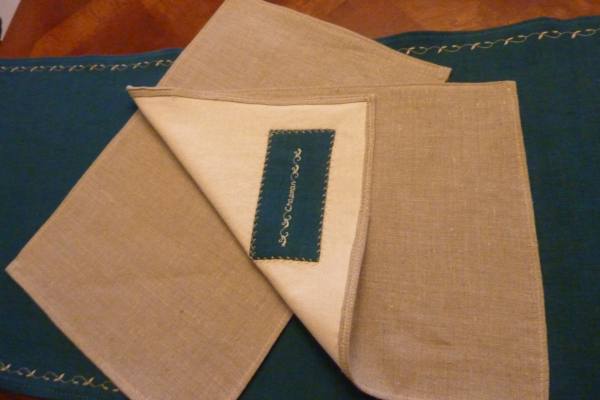 IL019 NATURAL 100% Linen Middle (5.3 oz/yd2)
I LOVE this linen so much! It makes the most gorgeous napkins! LaurelSusanStudio at etsy.com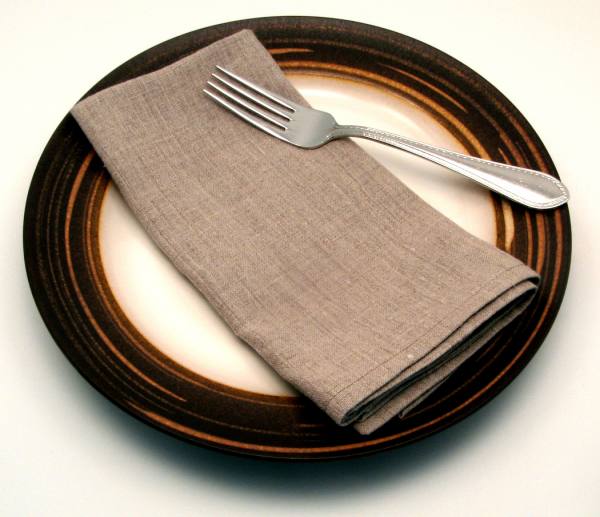 IL019 NATURAL 100% Linen Middle (5.3 oz/yd2)
This is my "go to" fabric for all of my linen projects. It's durable and smoother than the heavier linens. I keep coming back for it.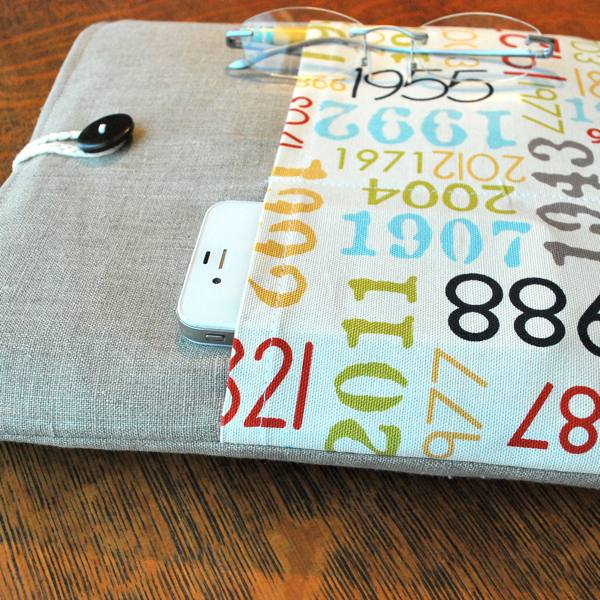 IL019 NATURAL 100% Linen Middle (5.3 oz/yd2)
It is a great fabric to sew and embroider! This cushion measures 45cm x 45cm.

IL019 NATURAL 100% Linen Middle (5.3 oz/yd2)
I sewed this reproduction 14th century shoulder bag entirely by hand using natural and bleached linen fabric and linen thread. Based on a bag depicted in the early 14th century "Smithfield Decretals".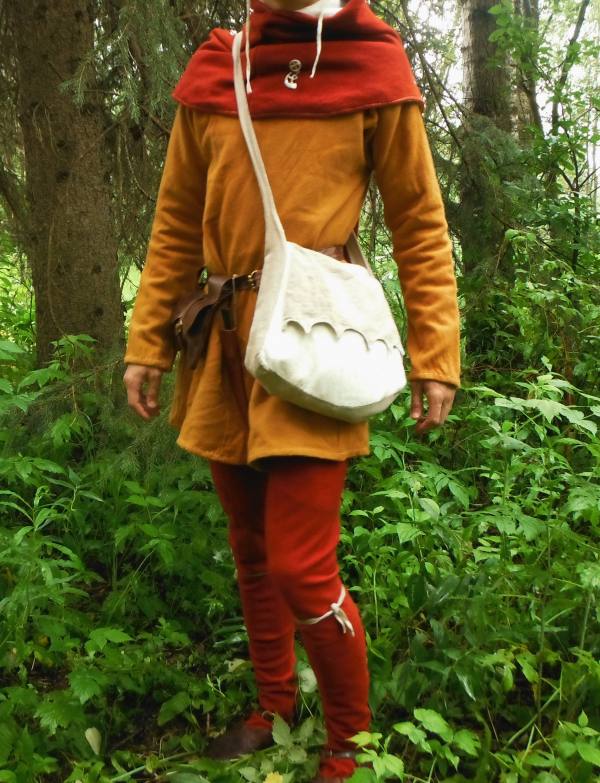 IL019 NATURAL 100% Linen Middle (5.3 oz/yd2)
Wedding present ~ Tablecloth, Napkins, & Tea Towel. Along with a handwritten note on information about linen found at this wonderful web-site of course! ~Lisa M, Palacios, TX PS The Machinist Apron I posted wasn't sideways in my file! My apologies anyway.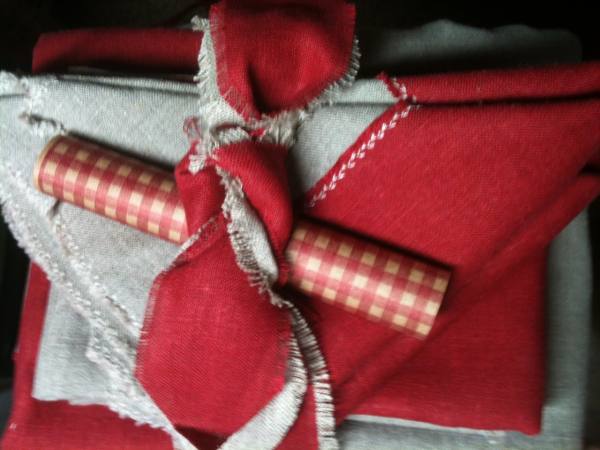 IL019 NATURAL 100% Linen Middle (5.3 oz/yd2)
My son requested a machinist apron. I chose to make it out of the IL019 Natural Softened. It worked out very well & he loves it! Especially the button-attached hand 'towel'. The Light Weight Black Linen, IL020 worked perfectly for the "Machinist" background; has a wonderful open weave texture. It covers the pocket so 'stuff' won't fly in while he's working. ~Lisa M, Palacios, TX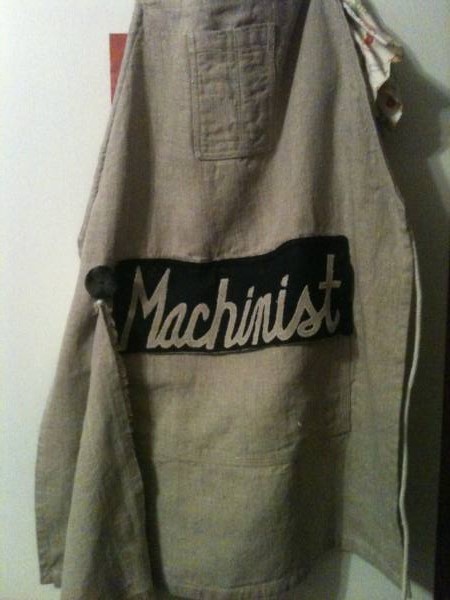 IL019 NATURAL 100% Linen Middle (5.3 oz/yd2)
Just recently I used some of this IL019 Natural linen and I stitched up a so-called "Draw String Bag" and was quite impressed how easy the linen was sewn. I expected some difficulties, especially since I haven.t been working with linen before ..simply love it ! You can see other items I made by following the link bellow to Flickr flickr.com/photos/74417602@N08/sets/72157631423849786/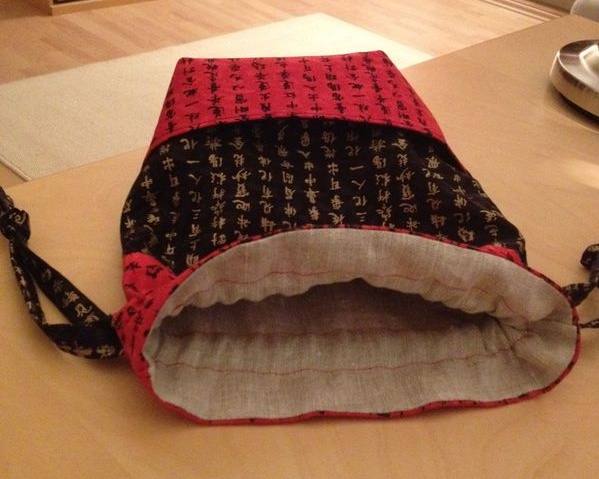 IL019 NATURAL 100% Linen Middle (5.3 oz/yd2)
Pillow made with medium weight natural linen from fabric-store lovely!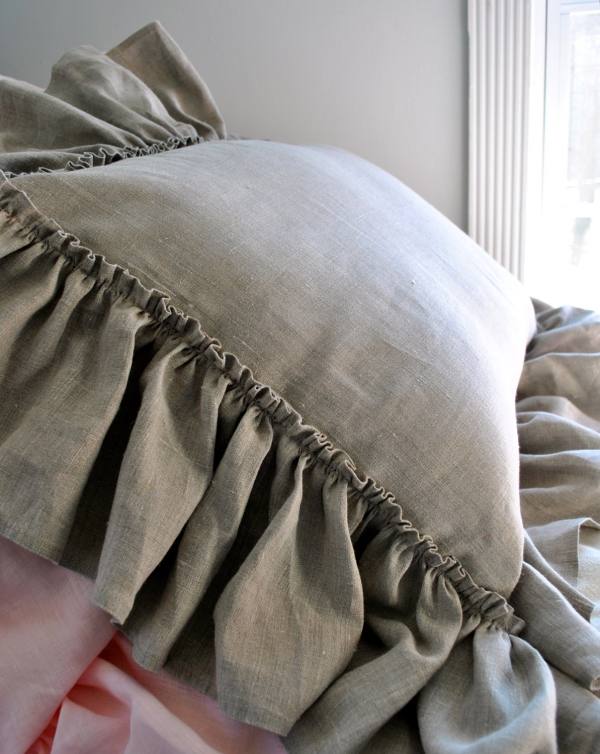 IL019 NATURAL 100% Linen Middle (5.3 oz/yd2)
This is a total hand sewn shirt that I sewed for one of my customers. This linen is the best.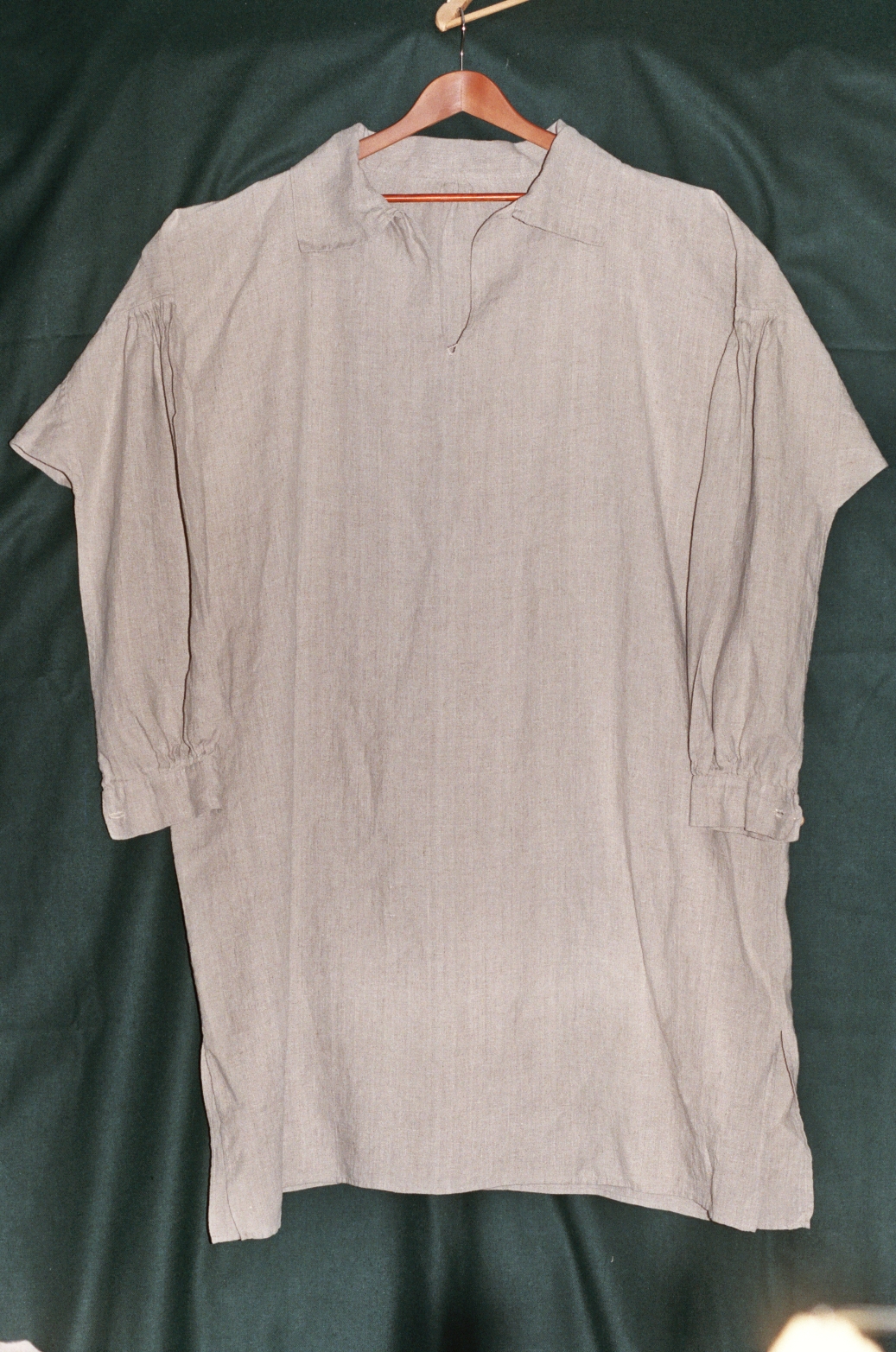 IL019 NATURAL 100% Linen Middle (5.3 oz/yd2)


IL019 NATURAL - 100% Linen - Middle (5.3 oz/yd2)
Sample Size: 2" x 3.5" (Including Swatch Card)
Free Standard Shipping
* Samples are pre-assembled and may not come from the same fabric bolt you order from. Color may vary. All fabric samples are shipped via USPS without tracking.

E-MAIL
Please contact us by following the link below.
SUBMIT A REQUEST

PHONE
1-866-620-2008
Call us Monday through Friday 10 am - 6 pm PST
Once you are happy with your order, please proceed to checkout where you are able to review your order and estimated shipping charges before you complete payment. Shipping charges are calculated by the weight and location your order is shipping to.
You will be able to choose from the following options:
Standard Shipping: 4 - 8 Business Days
Expedited Shipping: 3 - 4 Business Days
Priority Shipping: 2- 3 Business Days
International shipping charges are also calculated at the time of checkout. Please note there may be fewer shipping options available to you as the options are based on the destination of your package.
Delivery times begin one business day after the order is placed with a 24-48 hour time frame for processing.This processing period applies to all in stock items and allows for the time needed to manually cut and package your order to ensure it is checked for quality and accuracy before it leaves our facility.
Business days are Monday - Friday, 9AM - 4PM PST. Saturday, Sunday and Holdays are not considered business days.
Sample color chips are sent via regular mail and may take up to a week to arrive.
All goods are subject to prior sale and please feel free to Visit My Order to check the most up-to-date status of your order.
Making a return is quick and easy, you have 30 days from delivery to return the item or items in their original condition (unwashed, uncut and unaltered). Please include a copy of your packing list and once the return is received we will contact you to see if you would like an exchange, a credit to your Fabrics-store account or the monies returned to your original payment method.
Ship Returns to:
Fabrics-store.com
6013 Scott Way
Commerce, CA 90040
HOW DOES FREE SHIPPING WORK?
Take advantage of our Free Shipping offers on orders shipping within the contiguous US on the following days:
Every Monday and Wednesday on orders of $150 or more.
Every day on orders of $1,000 or more.
Your order will be shipped Standard Shipping (4-8 Business Days) with the shipper of our choice. No international orders. Standard shipping takes 24-48 hours for processing. Delivery times begin one business day after the order is placed. This is due to your order being manually cut and packaged to ensure quality.
Please note that some of our darker or more vibrant shades will have some residual dye run off or bleeding. It is important that you launder or treat like colors with like colors so that you do not compromise the integrity of any other colors, fabrics or garments during the launder process.
We also suggest that if you are combining one or more of these types of colors with lighter colors that you pre-wash the linens seperately and once the item is completed do not launder again, but Dry Clean.
Linen
Machine wash cold.
Gentle cycle.
Only non-chlorine. Bleach if needed.
Tumble dry low.
Medium steam iron.
Semilinen
Machine wash cold.
Gentle cycle.
Only non-chlorine. Bleach if needed.
Tumble dry low.
Medium steam iron.