4C22 COBALT Softened - 100% Linen - Heavy (7.1 oz/yd2) - 20.00 Yards
Price:
$310.80 per item

Sale price:
$279.72 per item (10% off)
Dark, brooding and dramatic, the intense blue of COBALT linen was ideal for Renaissance painter Jacopo Vignali's heightened, operatic scenes.
A leading painter in the Florentine Seicento, Vignali's Baroque paintings were defined by flowing swathes of jewel-toned fabric in midnight blues and crimson reds; set amidst theatrical, directional light, these richly toned colors amplify the romantic agony and tragedy of his stories.

At a heavier weight of 7.1 ounces this 100% linen is referred to as Rustic due to its more textured look and feel. Durable and perfect for projects that require just a bit more substance.
The cloth is Softened so we have added a softener to give it a silkier hand. The fabric has not been laundered so shrinkage will still have to be taken into consideration (shrinkage depends on fabric weave and laundering method).
Fabric specifications:
| | |
| --- | --- |
| Article : | 4C22 Rustic - Bortovka |
| Content : | 100% Linen |
| Type : | BASIC |
| Thread size warp : | 11.6 |
| Thread size weft : | 11.6 |
| Thread count warp : | 38 |
| Thread count weft : | 32 |
| Color : | COBALT |
| Weight : | 7.1 oz/yd2 |
| Width : | 57 inch |
Reviewer: Susan
I have not made up my mind yet because it's more of a fall and winter weight I will be on the lookout for a really nice pattern
Reviewer: sandra
beautiful colour , great weight. sews up beautifully. so pleased with all my purchases.
Reviewer: Anne
I bought this fabric to make tea towels for one of my customers who wanted linen indigo tea towels to sell in her coffee shop. This fabric and color is very luxurious. I was proud to deliver them to her, and she is proud to sell these gorgeous towels.
Reviewer: Anonymous
I love this fabric. I had an overdress made for Renaissance Fair, middle class woman. Has a good heft to it without dragging one down. And only needed lining to the top portion as it draped so well on its own.
Reviewer: Michelle
I bought two yards of this beautiful indigo-hued linen from the Doggie Bag, double-turned and machine stitched the raw edges. Presto, instant tablecloth. Some serious machine washing and drying later, it is soft but substantial, with a heavy drape. Looks great straight from the dryer without ironing. It will go to reenactment events with me to turn a white plastic craft table into something elegant, and to picnics to turn a park table into a clean, attractive eating surface. It's good enough for Thanksgiving at home too. The color does \"weather\" a bit in hot water, so if you want it American-flag crisp, use cold and iron on reverse.
Reviewer: Julie
This dark, dark blue is exactly what I was looking for to sew up a pair of everyday, comfortable pants that I can wear with almost everything I own. I love how they feel, sew up so easily and are very easy to care for. The best!
Reviewer: Judi
I love this fabric. I used it to make a pair of Viking Rus Pants and my customer LOVED it! The color was perfect and the fabric is easy to work with.
Reviewer: Susanne
This color is more like a pair of denim blue jeans once its washed. Not the almost navy it shows. In the end I preferred what I got. Though I hesitate on choosing other colors as the Vineyard green was off as well. I love the fabric so much though, I'll chance it and hope for the best.
Reviewer: Monica
This is one of the best \"blues\" out there. The color is rich and stays well after multiple washings.
I used the cobalt to make the Paola Workwear Jacket (a free pattern offered by Fabric-store and a must try!). *I altered the pockets and reversed the button side for a men's jacket. The cobalt was very similar to the color as seen on my screen. As always, please with my linen order!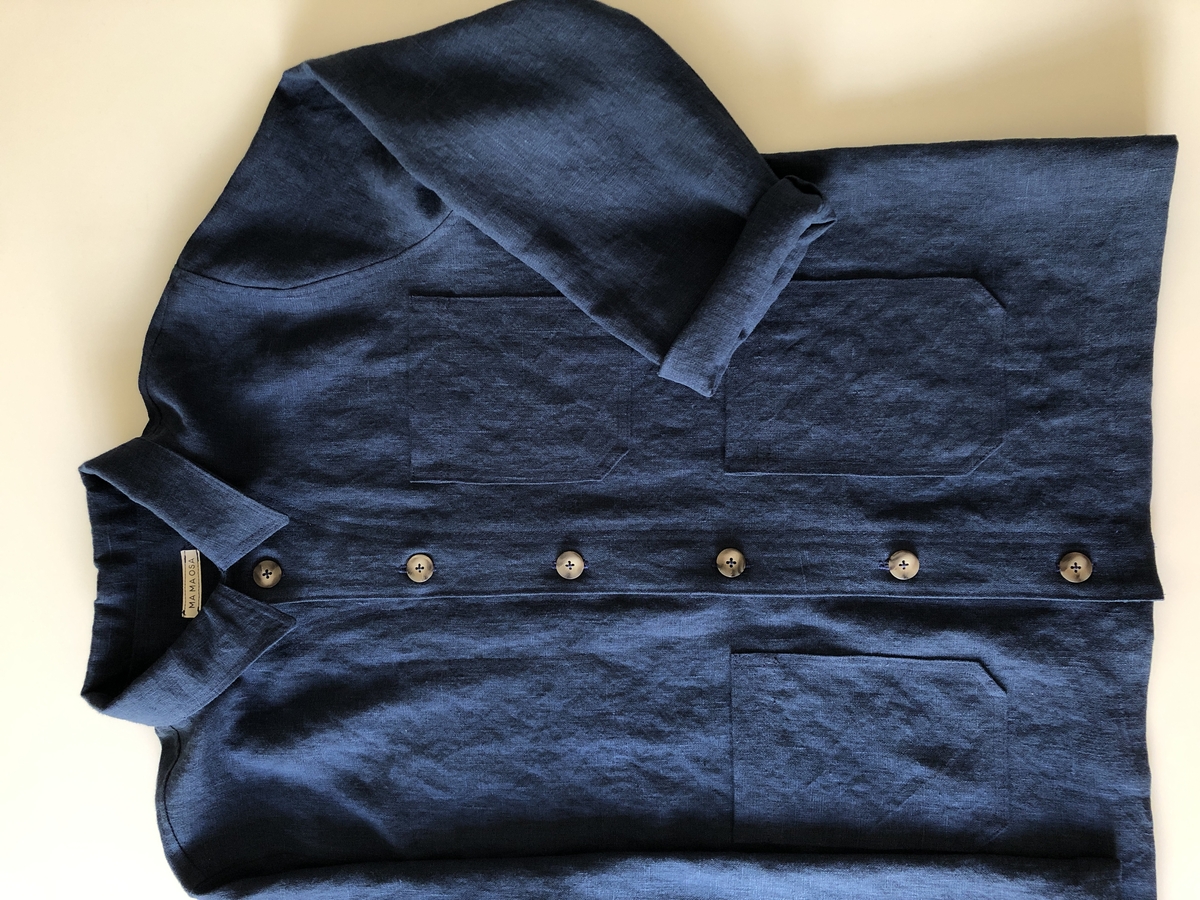 4C22 COBALT Softened 100% Linen Heavy (7.1 oz/yd2)
I made tea/barista towels with this beautiful cobalt linen. These are sold in a coffee shop and they could not be more pretty. The weight is terrific and the color is rich even after washing.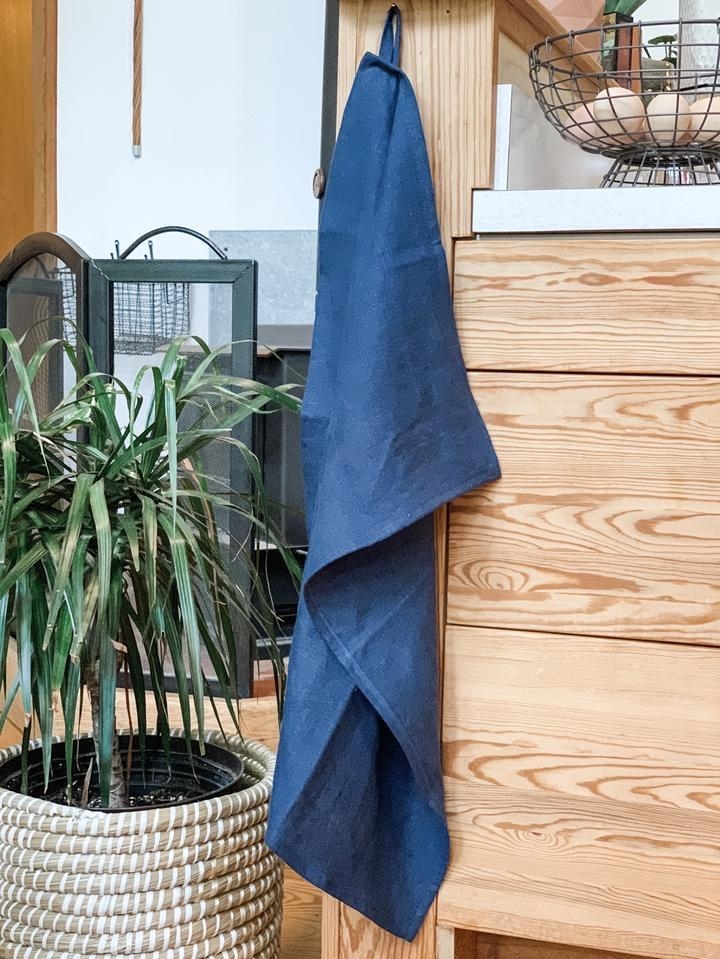 4C22 COBALT Softened 100% Linen Heavy (7.1 oz/yd2)
Cloche hat made from the heavier weight linen.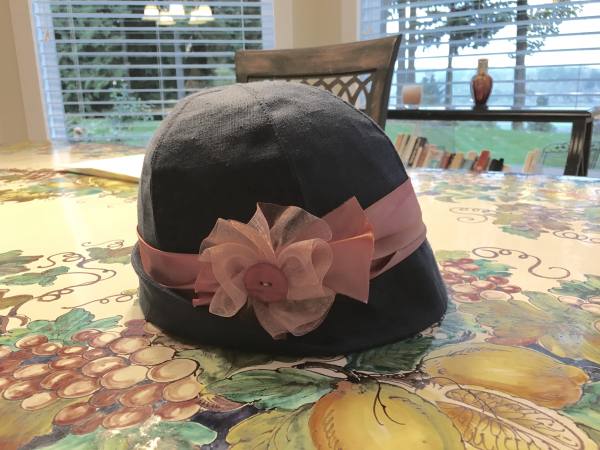 4C22 COBALT Softened 100% Linen Heavy (7.1 oz/yd2)
Cobalt 4C22 heavy linen Viking Rus Pants. Customer was very happy with them!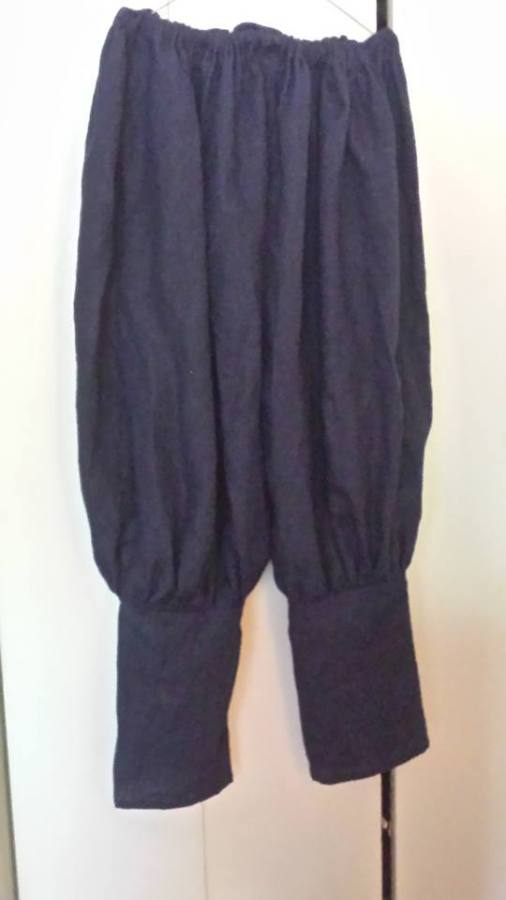 4C22 COBALT Softened 100% Linen Heavy (7.1 oz/yd2)
I sew mostly everyday garments. I love wearing linen year around. This jacket is made from Heavy Rustic Black 4C22. After 2 washes it starts to show the Indigo. I love it.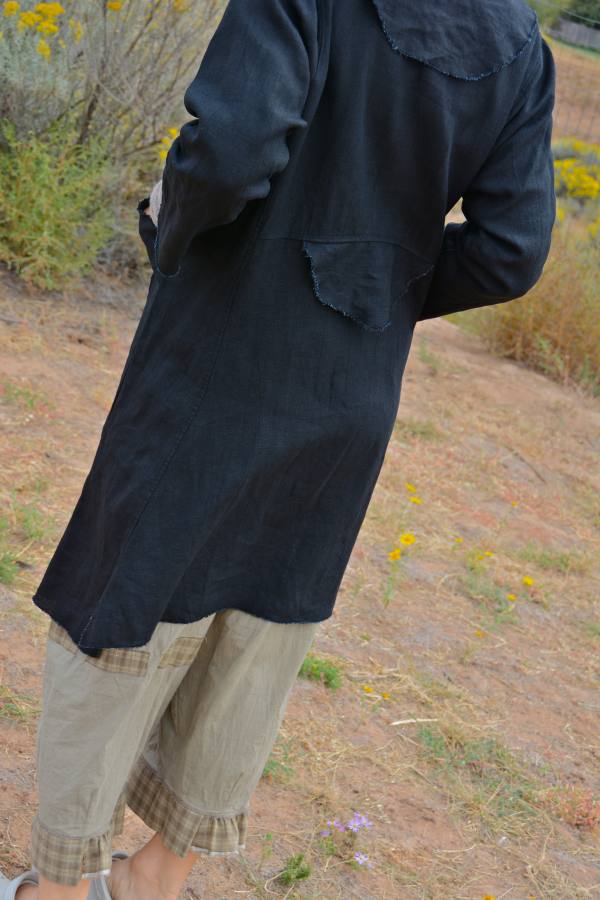 4C22 COBALT Softened 100% Linen Heavy (7.1 oz/yd2)
The cloak. I love it though wouldn't suggest lining it with linen also. Even though I reinforced all the vertical seams with non stretch twill tape, it still grows longer when I wear it, then goes back to the length I made it. lol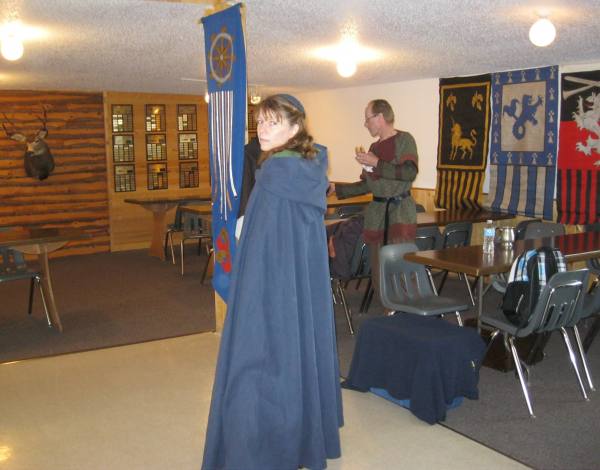 4C22 COBALT Softened 100% Linen Heavy (7.1 oz/yd2)
This cloak was made with the Heavy Rustic outer shell and the inside was lined with medium weight, Vineyard Green. Tip. Zigzag the ends together to prevent fraying and make a loop when you go to wash it to get the glazing finish out of it and shrink it.Less twisting. 7 yards just winds like a rope and its hard getting the deep creases out. Use a good quality iron and spray bottle. Then you'll just love your new fabric. I used 14 yards in total. I go to my local fabric store and nothing compares to this great fabric.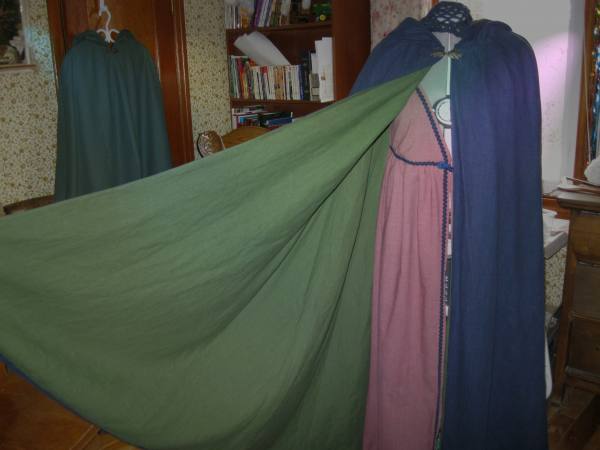 4C22 COBALT Softened 100% Linen Heavy (7.1 oz/yd2)
I use fabric-store fabric for most of the dark ages clothing I sell at events, love the predictability and repeatability of colors and weights. They always have 100% flax linen with a great hand in a variety of weights - I've used them all! Love their fabrics!!!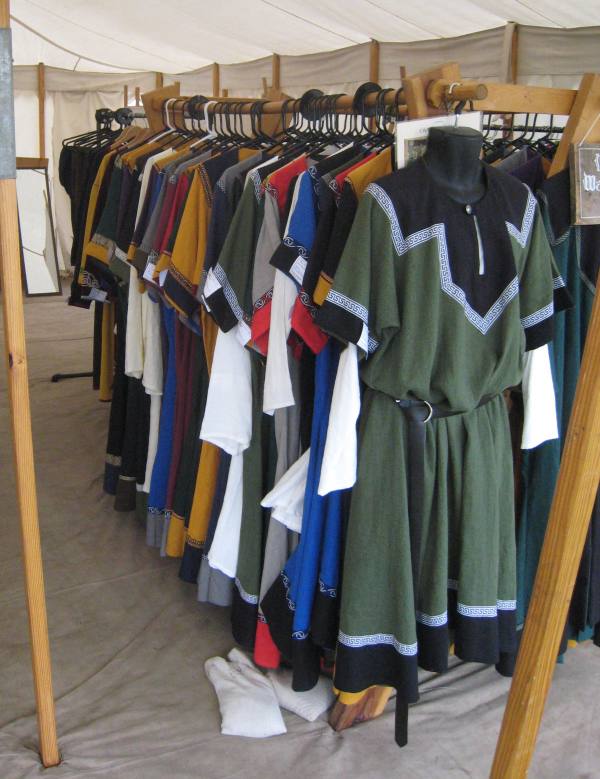 4C22 COBALT Softened 100% Linen Heavy (7.1 oz/yd2)


4C22 COBALT Softened - 100% Linen - Heavy (7.1 oz/yd2)
Sample Size: 2" x 3.5" (Including Swatch Card)
Free Standard Shipping
* Samples are pre-assembled and may not come from the same fabric bolt you order from. Color may vary. All fabric samples are shipped via USPS without tracking.

E-MAIL
Please contact us by following the link below.
SUBMIT A REQUEST

PHONE
1-866-620-2008
Call us Monday through Friday 10 am - 6 pm PST
Once you are happy with your order, please proceed to checkout where you are able to review your order and estimated shipping charges before you complete payment. Shipping charges are calculated by the weight and location your order is shipping to.
You will be able to choose from the following options:
Standard Shipping: 4 - 8 Business Days
Expedited Shipping: 3 - 4 Business Days
Priority Shipping: 2- 3 Business Days
International shipping charges are also calculated at the time of checkout. Please note there may be fewer shipping options available to you as the options are based on the destination of your package.
Delivery times begin one business day after the order is placed with a 24-48 hour time frame for processing.This processing period applies to all in stock items and allows for the time needed to manually cut and package your order to ensure it is checked for quality and accuracy before it leaves our facility.
Business days are Monday - Friday, 9AM - 4PM PST. Saturday, Sunday and Holdays are not considered business days.
Sample color chips are sent via regular mail and may take up to a week to arrive.
All goods are subject to prior sale and please feel free to Visit My Order to check the most up-to-date status of your order.
Making a return is quick and easy, you have 30 days from delivery to return the item or items in their original condition (unwashed, uncut and unaltered). Please include a copy of your packing list and once the return is received we will contact you to see if you would like an exchange, a credit to your Fabrics-store account or the monies returned to your original payment method.
Ship Returns to:
Fabrics-store.com
6013 Scott Way
Commerce, CA 90040
HOW DOES FREE SHIPPING WORK?
Take advantage of our Free Shipping offers on orders shipping within the contiguous US on the following days:
Every Monday and Wednesday on orders of $150 or more.
Every day on orders of $1,000 or more.
Your order will be shipped Standard Shipping (4-8 Business Days) with the shipper of our choice. No international orders. Standard shipping takes 24-48 hours for processing. Delivery times begin one business day after the order is placed. This is due to your order being manually cut and packaged to ensure quality.
Please note that some of our darker or more vibrant shades will have some residual dye run off or bleeding. It is important that you launder or treat like colors with like colors so that you do not compromise the integrity of any other colors, fabrics or garments during the launder process.
We also suggest that if you are combining one or more of these types of colors with lighter colors that you pre-wash the linens seperately and once the item is completed do not launder again, but Dry Clean.
Linen
Machine wash cold.
Gentle cycle.
Only non-chlorine. Bleach if needed.
Tumble dry low.
Medium steam iron.
Semilinen
Machine wash cold.
Gentle cycle.
Only non-chlorine. Bleach if needed.
Tumble dry low.
Medium steam iron.