Nico — Bias Cut Dresses & Tops
Nico — Bias Cut Dresses & Tops
Price:
Paper Pattern : $45.00

Ready to be in the designer's seat? Your Nico sewing pattern includes a collection of sleeveless, bias-cut dresses and tops with side bust darts and a scoop neckline you can slip over your head and go! Made "on the bias", Nico's unique design is so flattering that no matter your size, you always get an effortless look! Available in Maxi Dress, Short Dress, Tunic or Camisole - you choose!
What you get with your pattern:

- 1:1 fit and pattern consultation with our in-house pattern maker and fit expert.
- The latest in sizing. We use up-to-date technology and body shape data to get you a better fit.
- Professional clothing construction techniques. Developed by industry insiders with 100 years of shared experience.
- Illustrated instructional booklet to get you from start to finish. Written with the beginner in mind.
- Comes printed on crease-free, rolled plotting paper. Professional quality.
- Your pattern comes with only the sizes you requested printed in vibrant colors. Less clutter for easier cutting.
- Complimentary pattern storage tube and pattern hook.
- Pattern card for easy reference.
- Sew for your business? The pattern license is free with purchase.

Pattern specifications:
| | |
| --- | --- |
| Type: | Paper Pattern |
| Design Variations: | 4 |
| Sizes: | 2 to 8, 10 to 16, 18 to 24 |
| Illustrations: | Yes |
| Instructions: | Yes |
Reviewer: Chelsey
This pattern is absolutely awful. I took this week off to make some lovely items, only to be completely dissatisfied. All I have made is two mock ups of just the cami, and I cannot get it to fit. I am 5'10" and wear a size 10. I had to drop it just below the armpits by 1.5 inches because the darts are so high, and the armholes are still gaping wide. I don't want to make a third just to find out it still doesn't fit. I usually have no trouble with regular patterns (Simplicity, McCalls, etc) so I thought this would be great. How did you get Laura's dress to fit, who is 5'10 and wears an 8, as your booklet states.? There's no way she could wear it straight out of the envelope without LOTS of adjustments. All I can think is that this pattern must have been designed for someone much shorter, stockier, and bustier than I (the darts seem huge?), and that this is just a "bad" pattern for my body, and it won't ever work, not like you state. Very frustrated, feeling lied to and ripped off. Thanks. It was pretty expensive for nothing.
Lauren
I'm so sorry you had trouble with your Nico Camisole. Please lookout for an email from me, Lauren. I'm the fit and pattern expert and I hope I can use my expertise to help resolve this.
Reviewer: Mariann
This pattern is part of what drew me when I discovered the Fabrics Store this spring. If I make several variations of the pattern, I love that for the cost of less than three yards of high quality linen, I now have a dress that FITS ME for less than $50 and about 2 hours of my time. Bonus, I have enough yardage left to make a linen tank. I made my first one in Medium weight, signature finish, Autumn Gold and could not be happier! I put off making this partly intimidated by the massiveness of the pattern pieces. I knew I would need to lay my fabric out on the floor due to width and I am old and my knees hurt :). I made the maxi dress, graded size 10 on top, 12 for hips. I did not make a muslin, instead opted for flat-felled seams throughout. I made certain to allow for enough material in the hips, tried it on before finishing seams in case i wanted to take in more. Did the should seams after the sides so I could adjust length (cut off 2 inches each side). The fit is perfect! I felt like a dancer when wearing it! Color so lovely, outside my usual blues and greens, many compliments. As an aside, after reading some of the reviews, Please don't change the paper weight. I use tracing paper to create the size I need, never cutting out the actual pattern received. I love the ability to make several sizes without damaging the original. This gold Nico is my first of several, picture later...Love your stuff!
Reviewer: Marybeth
This went together easily and fits as I expected. The only problem is a bubble of fabric above the derriere as a couple other reviewers have mentioned. I have a rather flat behind, and it fit well through the hips with plenty of ease, so I don't understand where this came from. I had to put in a couple french darts at the back waist to correct. Wondering how to adjust the pattern so I don't have to do so next time.
Lauren
Hello! I'm Lauren, Fabrics-Store's fit expert. I'd be happy to help out with alterations for your next Nico dress. Please feel free to email me for assistance. it would be helpful if you also included photos of you wearing your dress, so I can see the 'bubble' you mentioned and suggest the most appropriate pattern adjustment for your body :)
Reviewer: Kelly
I'm an experienced beginner when it comes to making clothes. I love how this pattern is on heavier paper. I plug it in my glass dinner table with a nightlight underneath, and then put my fabric on top with weights on top to prevent it from moving around.. I could see the pattern just fine. I did have to alter a little bit.. but the paper is so great for it. I was able to draw in pencil without ruining the pattern. Cut it out using my new lines! I hate tissue patterns, they are so one and done (unless you iron them onto stabilizer before first use). Anyway. Thank you! I bought this pattern when it was first published by you. Is there some place that lists the changes you have made that I see referenced in some reviews? I'm curious. I almost always have to make a size bigger on the top than the bottom. But that's my body. I don't expect a pattern to fit first try. I get help with fitting a pattern, then I can make it in my own. Still I am curious about what has changed.
Reviewer: S
After making several successive muslins to ensure the correct bust dart placement I've had to admit defeat with Nico. The muslin from the original pattern had the gaping and weird placement mentioned by others, and my attempts to fix the combined issues have left me frustrated and verging on annoyed. I will definitely return the pattern - as much as I love sewing on the bias and the superb fit I expect with bias cut dresses and tops, this is unusable for me.
Lauren
I'm sorry your Nico didn't turn out for you. Please look out for an email from us.
Reviewer: Susan
My package came with incomplete instructions, but Fabric Store responded, almost immediately, and sent new instructions by FedEx express. I am now very happy and excited to start my dress, tunic, and cami. Thank you Fabric Store!
Reviewer: Dorit
The pattern fit me with just a few alterations. This dress is comfortable and flattering. And easy. Love the fabric The bad is that I emailed that I did not get any instructions, was told she will contact warehouse but I struggled through (I'm a beginner) to the end and still have not received it.
Lauren
Hello, We're sorry you didn't receive your pattern booklet. We sent out a copy last week after contacting our warehouse, so you should have it by the end of this week.
Reviewer: Susan
My instruction book was bound incorrectly, and I only got steps starting with 6. I sent a message to Fabric Store several days ago, and still haven't heard back. I also have a question for Fabric Store and anyone who has made the dress: Wouldn't it be easier to complete the sleeve bindings before sewing the side seams. I would think it would be easier to access the area if it was still lying flat.
Maureen
Thank you for letting us know about the incomplete booklet. We apologize for the delay as we wanted to check our stock to make sure this was not a widespread issue, which thankfully it is not. We are sending you a replacement booklet via 2nd day FedEx today. Our pattern team was delayed in their response to you due to our investigation regarding the book, but they will reach out to you regarding your sewing question now that we have completed our review of the Nico Instruction Book.
Reviewer: Mercy
I too had issues with the sizing and the weight of the paper. First time using your patterns. I measured and re-measured before cutting and it was still too tight along the bustline and hips. Details: dart placement --I am busty (for reference 5'4", 132 lbs, 38D); neckline a bit too low and bra shows, so I raised at the shoulders. This helped as before there was a bunch gap above my butt in the back. The fabric is great and I plan to buy different color fabric to try again.
Lauren
Thanks for letting us know about your experience with our Nico Pattern. We offer free 1-1 fit advice with our Premium patterns, so check your inbox from an email from our fit expert who can help you out with making adjustments.
Reviewer: Dana
I had bought the Nico pattern in May of 2019 but did not make the tunic and dress until January of this year (2021). As some reviewers mentioned I, too, had much difficulty with the fit even though my measurements fell well within the size 12 measurements posted in the size chart. I found that the bust fit, but the hip section did not have enough ease which caused a bubble of material to form in the back waist area. I was surprised by this as I have several patterns from the Fabric Store and never had issues with fit. I bought the Nico pattern again this year (2021) in size 10-16 thinking that I would have to alter the hip area to a larger size, but to my delight I found the pattern had been altered radically and for the better! The new pattern now has plenty of ease needed for the bias cut which allows the material to sway around the body. The only alteration I made was to shorten the shoulder straps and shorten the length of the maxi dress. Bravo! I have made the tunic, short dress and maxi dress and I love them all. I now highly recommend this beautiful, easy pattern.
Reviewer: Trish
Easy and quick sew. I did botanical printing on it when finished with sumac leaves. First I made the tunic and have started on the maxi dress
Reviewer: Kristi
Since I bought the larger size pattern I have lost 50 pounds. Unfortunately it mostly came off my chest and shoulders. I can not adjust the top of the pattern enough to compensate. I had to order the smaller size and will have to figure out how to combine them. Kind of bummed
Reviewer: Kathleen
Adding to my review. While I'm having trouble with the stiff paper, the 019 fabric is very soft and drapes nicely. I also have some heavy weight linen in the natural color that is much stiffer. I'm looking forward to placemats and a table runner. I will post my progress!
Reviewer: Kathleen
I bought this pattern last summer and am finally cutting it out. I've used the tissue paper patterns since I was a child. The tissue paper is soft and light and therefore is easy to pin. I'm bending my quilts pins on this stuff paper. Also having trouble cutting it accurately. Because the paper is so stiff it does not Dow with the fabric. Part of one of the bias strips used for lining the neck opening is too narrow and I'm going to need to recut it. Part of the armhole curve is off too. Not thrilled with the heavy, stiff paper. Recommend that the patterns be printed on lighter paper. I'm noticing that many patterns are now available for download. Haven't tried that yet, but my printer paper is definitely lighter and more flexible.
Catina
Thank you so much for your comment and feedback! It is quite understandable that you would favor tissue paper from having used it for so many years. :) Many of our customers trace their desired size with tracing paper to preserve the original as a template. You might enjoy the weight of the tracing paper better. Another thing to try is trimming around you pattern pieces first, and laying them on your fabric with weights instead of pins. We do have quite a collection of free downloadable PDF patterns if you would like to give that a try! I will let the rest of the pattern team know about your "vote" for the paper to be a little less thick. :)
Reviewer: Virginia
Looking for interactive "sew-along" events for our Nico Pattern. This will cover sewing, fitting, and even customizing to new styles such as adding sleeves!
Reviewer: Virginia
Made the maxi Nico in white linen. I bought 10 yard bolts in two weights expecting I would make a few. As a fiber artist I am in search of blanks for painting that would be attractive on most women. The hem seams are fine but the neckline and armholes on the bias look sloppy. Are there tutorials that would help if I try again?
Reviewer: Anonymous
I bought this original pattern assuming i was recieving at 18 to 22 fit. I realize i am chesty and have been sewing my own clothes for more than 40 years and always have to adjust placement of darts. Even with that this dress was way too tight. Even with bias cut. I understand that you are currently working on sizing issues. I hope to see this soon. I like your designs and would continue.to purchase them
Reviewer: Be
I wish I had cut traced and cut a tissue pattern before I cut the pattern. I made the dress and it was too small. I would have made more from the pattern but the larger sizes are gone. I did find the instructions clear and very much like the French seems. My finished product looks very professionally done.
Reviewer: Mary
I think that making PLUS size patterns should NOW be a priority. I have wanted to purchase your patterns, but you DO NOT MAKE THEM IN MY SIZE. I have one pattern that you made in plus sizes. The majority of women in this country are a size 14 and ABOVE. Why are you ignoring a potential gold mine for your company?
Reviewer: Dianne
I love the dress, and I love the pattern delivery. The paper is sturdy and will last for a dress made many times. I was between sizes. I wish I had gone a size up as I find the pattern runs small. I love the dress. I will make more.
Reviewer: Julie
I LOVE your neck treatment! (The green on white( I'm going to do that. I have been sewing a minimalist line and am always on the look for something different to add to the solid color. Your applicays are beautiful too. I have done some robin work, and tie dyeing but your application will be my next try!
Reviewer: Julie
I notice a lot of complaints about fit. I also notice a lot of ladies of my age sewing. We all have to look at the model compared to your own shape and make the necessary adjustments from there. The FS team will help you if you need help. I have made 2 dresses and now am on to the tunic and chemise!
Reviewer: Sarah
I see this problem in other reviews. Not sure why this hasn't been remedied. Quality seems to be a priority for you company but this is a major problem! I left a voice mail for a return call and have yet to receive one therefore I'm also writing here. I would like the instructions e-mailed, as has been done for others, so I can begin my project as planned. However, I would also like to receive the print copy as described in the description of this rather expensive pattern ASAP.
Oksana
Hi! I just saw your comment - emailing us is much easier as we get the emails in our inbox and can reply faster. Maureen has already shipped another booklet to you as per her email to you from August 20th. Please email us if you have any questions so we can help right away. Have a great day!
Reviewer: Raquel
I love this pattern and I received it some time ago. I had not opened it since I had been waiting to upgrade my 25 year old sewing machine. Today when I opened the box, the instructions were missing:( The pattern and the hook were the only items in the box. Being Saturday I couldn't get in touch with costumer services. I hope that I can get it soon, I was hoping to wear the dress for a Summer weding next month.
Oksana
Good afternoon - I am so sorry the warehouse didn't include the book. I've already emailed them to send you another copy and will email you the digital copy to your aol address now. Please email me if you have any question. Have a great day.
Reviewer: Linda
I, too, am disappointed with my pattern I didn't read the reviews before cutting my fabric, I did double check all my measurements. I wish I had made a muslin cutout first. The bust darts are so weird (I'm a B cup) and they just seem to be in the wrong place and the arm holes gap open. I've been searching YouTube to try to find a fix and save my beautiful linen fabric. For the price of the pattern, it should work!
Oksana
Hi! I am sorry to hear you don't like the NICO - there is a trick to working with linen cut on a bias and if the sleeves holes aren't secured properly - the cloth will continue to stretch and throw off the dart placement as well as make the armholes larger. I sent you an email - please email me back so I can refund you for the pattern and walk you through how to secure the cloth properly so it doesn't keep stretching and skewing - we will do our best to help you get the dressed finished and ready to wear. Have a great weekend.
Reviewer: Sophia
Hi Ladies, I was excited to receive my pattern. This is a style of dress I've been wanting to make for a while now. The pattern itself is made on nice thick paper and I like the storage tube, which fit nicely in my map rack. But alas, the pattern didn't fit me at all, I'm so disappointed with how the dress turned out. The darts aren't positioned correctly for my D cup. (Maybe this fits better for ladies with smaller bust size.) The dress was very baggy near the darts and there was a huge gap at the armholes. I even tried adding a second dart to compensate for the gap but that didn't look very nice either. I'm just thankful that I used an inexpensive fabric to make the mockup or I'd be even more disappointed. I'd like to return the pattern for a refund or exchange for fabric. It would be nice to see larger busted models wearing any of your garments. Side note: I downloaded the Morocco Pant Pattern and it fits perfectly. Another side note: My fabric order came today. Everything looks amazing and I can't wait to use them. --> I would give more start but now I have to pay shipping to return it.
Oksana
Good morning! I sent you an email yesterday, but haven't heard back so decided to reply here as well. You don't have to ship the pattern back to us - I've already issued a refund to your original form of payment. I've also asked the pattern maker to reach out to you to see if she can help figure out what went wrong - I have the same dress in size 10 ( same chest proportions) and mine is snug so something didn't go right in the cutting and she will be able to help figure it out. Her name is Catina and she will be emailing you so look in your inbox. Have a great day
Reviewer: Nancy
Pattern was easy to make up, especially in your linen. It amazes me how well the bias binding goes on when I use linen. I had to reposition the dart because I'm thick around the middle. I made the Cami first to test fit. Very cute.
Reviewer: Karen
The pattern came quickly and in good shape, however I haven't worked with it yet so I can't offer any feedback on the pattern itself. I will try to add another review in the future when I get around to using it!
Reviewer: Linda
I ordered this pattern on March 21, 2019. As of today, April 11, I have yet to receive the pattern. I sent an email asking about my order but have received no response. Needless to say, I am very disappointed in this company.
Oksana
Good morning Linda! Thank you for reaching out to let us know the pattern hasn't arrived yet. I've checked the tracking on it and it does show that USPS attempted delivery on April 4th. I've sent you an email - please let me know if to attempt re-delivery or if you would like a refund. Have a great day.
Reviewer: Elaine
I decided to follow the instructions for slashing and spreading the bust area for the FBA. I made NO changes to the neckline, nor armhole the way I normally would (easing the fabric tighter at the edge in the curves). When I tried on my muslin, I couldn't believe the dramatic improvement. I leaned over - no gaping at neckline, nor in the armholes. I graded the pattern down from a 16 to a 14, then enlarged the bust area following Rima's instructions to the letter. The results are amazing - I may not have a beautiful body any longer, but I can still have a beautiful fit!
Reviewer: Elaine
After reading some of the other reviews: (1)Yes, I am experienced. (2) I tested the pattern by making a camisole, (3) I am 75 years old, shaped like a diamond - not an apple, with a 40-D cup. My point, even the most experienced seamstresses need to test a pattern. I will make the adjustments needed for my bust size. If you don't know how, you can find instructions in the tutorials: blog.fabrics-store.com/?s=Alter+pattern+for+large+bust&post_type=post. I prefer a different method, called "Pivot and Spread" for my large bust. There are tutorials "out there" for the method.
Reviewer: Elaine
Beautiful: the presentation, the excellence of instruction, the design, and the source. I have been a Fabrics-Store customer since 2014 but had no experience with the site apart from buying the wonderful linen. Being so impressed with the pattern led to digging deeper in the offerings of the site. Imagine visiting the Metropolitan Museum of Art wearing a blindfold. That is how I felt I had visited Fabrics-Store before getting this pattern. The fabric - I remember the stock number by thinking of it as I LOve 19. Having retired from a career custom dressmaking, and currently a consultant to a manufacturer, I don't need to curry favor, nor do I have anything to gain from giving a good review. Except the pleasure of sharing a very good thing.
Reviewer: Janet
I've made all versions of this dress, the crop top, tunic, kneelength dress and anklelength with slits. The packaging is beautiful and the instructions are extremely clear. I found the dart very strangely placed. It left an unflattering bagginess at this side bust. I ended up changing it to a French dart and did the usual alterations that I need (gaping neckline, full back adjustment, gaping armhole, swayback) and it worked out great. Because I made so many alterations I had to completely re-draw the pattern in Swedish tissue paper and kept the original pattern intact. I'm 5' 7", 135 pounds and 34C bust. A friend bought the next size up pattern for me to make for her. She's very curvy. I'll see what the dart looks like on a different bust size and will review. I gave this pattern 3 stars because it's advertised as a beginner pattern and that the dart placement is flattering. I'll change my review if it's flattering on my curvy friend. If you know how to adjust patterns than you will figure how to adjust the fit.
Reviewer: Gabrielle
A few hours ago, I had just ordered the Nico pattern as a Special which you are offering, posted on FaceBook. I have now gone to your website to look for fabric, and have read the reviews of this pattern. Catina, your responses are thorough and, I'm sure, helpful for an experienced seamstress. That, unfortunately, I am not. I have now delineated three main questions: (1) In a couple of answers, you mention that you have personally changed to using a diagonal French dart. If that results in a superior fit, for the reasons you describe, why wasn't the pattern made that way in the first place? I would not know how to do this modification on my own. (2) I am 67 years old, large busted, and am concerned about the dart height issues described by several reviewers. Again, I am not knowledgeable enough to change anything from the way the pattern is printed, and its instructions written. (3) An additional concern is that the waist, as configured, will not be big enough to fit me. With a larger pattern size, however, the hips would be WAY too big, as my lower half is shaped more like a man, i.e. kind of straight. (I buy men's jeans for this reason.) My waist is large, almost equal to my hips, and both are smaller than my bust. --> Bottom line: should I CANCEL my Nico pattern order before it is sent out? Thank you.
Catina
Thank you so much for writing in with your questions. While the "reviews" section of our product pages is intended for ratings by those who have tried out the pattern, our customer service email (Ask@Fabrics-Store.com) is the best way to reach us for help and faster response. :) I will answer the general questions here, but for advices specific to your body measurements feel free to email me that information and we can look at the charts together to come up with a custom fit for your unique shape. The Nico pattern was designed for the beginner in mind with illustrated step-by-step sewing instructions. 1) French dart: My apologies for any confusion. The Nico DOES have a French dart. 2) Dart position: The "shoulder to bust point" measurement can vary from person to person, regardless of age. The French dart on Nico is not intended to stop at the exact apex of the bust... it behaves more like a panel and is off to the side. This is especially so given the give and stretch that happens with the bias-cut of this garment. When you email me your measurements, I will be happy to advise if there is anything that would be cause for concern or a desirable slight adjustment. 3) Body proportions fit: Of course, many of us have a size and shape that is not "standard" to a so-called balanced size chart. The good news is that the bias-cut of the Nico has what I will call "fit magic". The bias cut linen stretches and conforms to the body and really settles even more after a few "wearings & washings". I know, because I've made a few for myself and my own measurements are strewn dramatically across 3 sizes. I cut a size that would have been 4" too small for me in the hips "on paper", but the magic of the bias accommodated me just fine. I wore a very similar bias cut linen dress decades ago when I was pregnant. The same dress fit me before, during up to 9 months, and after..... Fitting comfortably the whole time (albeit the hem in the front did ride up more and more as I grew)! Again, I am happy to help with your specific fit requirements or any other issues you are concerned about once you email me your measurements. :) -Catina
Reviewer: Charmelle
Where do I find the yardage needed for pattern? Do I have to wait to get the pattern to see what I need? Thanks!
Oksana
Hi! Yes, the yardage is included on the instructions themselves. But, I will post it right now in the finished work where it will let me add pictures.
Reviewer: Lynne
Thank You, Catina for your quick reply. Can't imagine what happened to my request through Ask but glad I wrote on this site. I will be tied up until late October so as soon as I can, I will send pictures, etc. I cannot imagine how lovely it would be to have this camisole, dress, and maxi in my repertoire for easy living summer clothing. Look forward to working with you and thank you again. Lynne
Reviewer: Anonymous
I too was so excited to get this pattern in the mail. I am 68 years old and cut out a size 8 for the bust and widened 5/8" for waist and hips. I am a C-D cup and that tiny dart on the side is way too high and probably designed for a B cup at the largest. I did try lowering the bust dart but it still came out not fitting at all. so then I went on the adventure to do a full bust adjustment and lower the bust dart and I ended up with two large french darts and to deal with the excess at the neckline, two small darts there. The thing that disappoints me at the most is that I wrote an email ten days ago asking for help which you say we can do and I have heard nothing back. Have you actually tested this garment in a larger busted woman or are they all young girls with high busts? In that case you should note that this pattern is just for young women. I don't like darts that are high because that accentuates that my bustline is not! Also, when sewing on bias, usually you cut a little bigger to accommodate how the bias tends to become narrower on the body. I would really appreciate some feedback. Thank you.
Catina
Thank you so much for sharing your experience. You mentioned you wrote in to our customer service email (Ask@Fabrics-Store.com), but I could not find a message from you anywhere. I would have really enjoyed working with you on customizing your fit. :) I tried on the size 8 (I'm a 37" bust with a D cup post 5 babies) and it fit me great though the bust and waist, but a little too snug for my size 16 hips! I chose to do this pattern draft with a diagonal "French dart" that was meant to behave more like a side panel would... not to be a literal point stopping right at the apex of the bust. This way I found it to work better across a range bust cup sizes (and apex heights). This is not to say that the dart cannot be adjusted to a different location or made fuller, but I am available should anyone like guidance. You are right in that the bias can become more "narrow" if the body beneath allows for it to hang and conform... but what is also wonderful is that it will also "stretch" to conform to a larger shape. Since we all have different preferences in how loose or fitted we like our garments, I always recommend taking a look at the Finished Garment Measurements on the Size Chart. I am happy to give you feedback and advise specific to your fit needs but I would need more information and if possible, photos would be helpful as well.
Reviewer: Blythe
Thank you, Catina & the FS team for your reply. In re-reading my post, I see I wasn't very clear. The steps I took with the fabric were 1) serged raw edges & washed; 2) used mordant/fixative process of simmering in sumac "tea" and repeated dips in soy milk (drying on clothesline between dips) 3) cut out pattern pieces; 4) arranged plant materials on pieces of fabric, applied fixatives of copper & iron, rolled up, steamed 3 hrs, left overnight, hung out to dry next day; 5) rinsed and dried again (on clothesline); 6) sewed. What I *should* have done was to serge or staystitch all the edges right after cutting all the pieces. Also, when hanging to dry, I should not have hung by shoulder straps. Still, it all worked out. I wore this dress nearly every day on a recent trip to Hawaii and it was absolutely wonderful! Love the way it moves with your body when you wear it. Love the way it breathes. Love the French seams. Definitely going to make another one. I think making a draft dress out of an old sheet or something would be a simple way of seeing where to adjust.
Reviewer: Blythe
I really debated a long time on whether to pay that much for a pattern. I decided to take the plunge and am glad I did. I really appreciate the thick paper and detailed instructions. I am getting back into sewing, so this dress (maxi version, size 6) was a bit of a challenge for me. I needed to shorten it about 2" and wasn't sure where to do that. I ended up taking it up just above the top of the side slit near the bottom. In retrospect, I should have taken some there and also some at the shoulder straps. Or is there a better place? The other modification I would make would be to take small tucks in under the arms. All-in-all, though, it is a good pattern for a variety of body types. I only had 1.5 yards instead of 2, but I managed to make it work. My main problem was with the triangles at the bottom, which I must not have gotten on the bias right and they ended up a little wonky. My biggest mistake, though, was that I wanted to eco-dye it with my garden plants, and so I serged the edges & pre-washed the fabric (ILO19 bleached, softened), and cut out the pieces so I could better arrange the leaves & flowers. BUT I should have serged the edges of the cut pieces first. Steaming the fabric & hanging out to dry caused the edges to fray a bit & the triangles to stretch (and possibly also the shoulder straps). Still, the dress turned out absolutely beautiful! Very forgiving fabric! I am looking forward to making another one! Love the options provided for in this multi-purpose pattern & hope the designers will perhaps provide an option for short sleeves. I give 4 stars only because of lack of direction on how to shorten or lengthen. A more experienced sewist probably wouldn't have a problem.
Catina
Blythe! First, let me say how beautiful you look in your custom-dyed Nico! Thank you for sharing those wonderful photos and your project. With your talent, I'm so happy to hear that the Nico inspired you to get back into actively sewing! Feel free to contact me directly at our customer support email (ask@fabrics-store.com) anytime you have questions about our patterns or sewing with our linen. You are right though, you may have benefitted from taking out that 2" length over a few places... it just depends on our individual proportions. It sounds like you could have used an inch taken out of the waist length. For the shoulder straps since the fabric is on the bias, they can stretch out very quickly if the raw edges are not single-needle staystitched. I'm not sure if you meant that you washed the full fabric yardage first or the cut/serged pieces first. If the latter, I would not suggest that since the pieces being on the bias can become very skewed and warped. In the near future, we hope to have exclusive, interactive "sew-along" events for our Nico Pattern. This will cover sewing, fitting, and even customizing to new styles such as adding sleeves!
Reviewer: Sheryl
I was so excited to receive the Nico pattern but terribly disappointed in the fit. Based on my measurements, I made a mock up in a size 14, before cutting into my linen. Per the description, the pattern paper is heavy, lines are easy to see, & storing the pattern in the tube keeps it safe. That earns 2 stars. However, the fit is horrible. The top is super baggy under the arms & the darts are incorrectly placed; probably because the front straps are too long. Snug through the hips. It would take a complete redesign to fix & not just a simple tuck. I am returning the pattern.
Catina
Thank you so much for your constructive feedback and your kind comment about the quality of our paper and presentation. I regret to hear you did have an enjoyable fit experience and appreciate that you gave it a try. The suggested body measurements for the Size 14 are 40 " bust, 31 " waist and 42 " for the hips. Sometimes though, it is best to consider the finished garment measurements. The added ease to the Size 14 Nico is 3" in the bust, 8" in the waist and 3" in the hips. It has been my experience with the Nico that the bias cut of the linen has a forgiving "stretch and conform" characteristic and after a few rounds of "wearing & washing" the fit really settled in nicely to my unique shape. I chose to do this pattern draft with a diagonal "French dart" that was meant to behave more like a side panel would… not to be a literal point stopping right at the apex of the bust. This way I found it to work better across a range bust cup sizes. For the length of the straps, I do know that if I do not staystitch the neckline and armholes as my first step, that bias really stretches out and my straps will be much longer than intended. It is certainly possible though that one might still find it desirable to shorten the length of the straps to preference. I certainly understand that fit issues can be disconcerting, and always we are liberally and happily available via customer service to offer our assistance and advice. - Catina
Reviewer: Cathy
I have made this pattern six times and varied it slightly with each garment. This dress/top pattern is one of Fabrics-Store.com's best. I raised the neckline about an inch and a half. (Just tape more paper to your pattern top.) This is the perfect dress pattern for garments that you can dress up with jackets, light knit sweater cardigans, or chunky jewelry. It can also serve as a slip or under dress for layering under other garments if you get very sheer linen.
Reviewer: Margaret
Easy download and easily printed by those that know the process. The sewing may take someone that has sewing experience which I do. The dress is well worth the time and being cut o. The bias makes it hang beautifully and I will definitely purchase fabric and sew from y'all again. The fabric is some of the most beautiful linen I have found. I am not a small girl and found the neckline to be a bit wide and deep so just check it out as you may want to simply pull up the shoulder seam before you put the binding in place. Nice job!
Reviewer: Barbara
I made the Nico dress. I cut it on the bias for my 8 year old grand daughter. I did adjust the arm hole to make it smaller for her thin arms and cut the back lower to give her more room to put the dress on. I raised the front neck so when she bends over her entire front body is not exposed. As a girl may do, she made her own adjustment to the style. She likes the dress backwards! Regardless of my plan she did want the front lower and the back higher as the dress was originally designed. The pattern sewed up beautifully and she loves it. She is such a pretty girl. I called and got Magnolia's exact measurements and the size 6 fit her perfectly. I would have chosen a larger size by her age but the pattern measurements worked perfectly. Thank you for your care in styling and pattern making.
Reviewer: Jessica
For me Natural Linen is the best. I am an Heirloom Sewing Master and many of my designs are made using Handkerchief Linen.I have taught many classes using this fabric as well as Swiss Batiste and French laces. My specialties are Wedding dresses and accessories, I also love to design Christening gowns. Your Linens are ideal for my work. Thank you for making them available.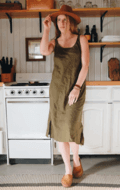 The making of the dress went so smoothly and took only a couple hours. It's a simple design that is well patterned and easy to follow. I was drawn to the NICO pattern set for its French seams and bias binding neckline/armholes. These are two of my favorite sewing techniques because they are simple to sew, while producing a high-end finished seam with enclosed raw edges. The little details like the bust dart, bias cut, and side slits make this dress fit wonderfully and feel so comfortable. I followed the pattern exactly, with the exception of shortening the hem by six inches so it hits right below the knee instead of a maxi length. For reference, I'm 5'7" and typically wear a size 2.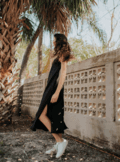 In my over two decades of sewing I don't think I have sewn more than one piece that is cut on the bias. The NICO Dress Pattern was a very good pattern for me to stretch myself on bias cut pieces. The NICO Pattern has two dress length options and one top. All three are cut on the bias. I decided to make the first one for my youngest daughter Amanda. My daughters call this style a "slip dress" and she had been asking sweetly if I could make one. She is a stunning 6'1" and because of her great shape, we found that she needed two different sizes per the pattern measurement estimate given: one for the bust, one for the hips. We went with the higher size and then took in the top under the arms to the dart once we started the side seams. You can read more about this project here: blog.fabrics-store.com/2020/12/17/pattern-review-fs-nico-dress-in-black-midweight-linen/

Lovely easy sew with good fit. After completing the sew, I did botanical printing with sumac leaves from my yard. The linen from this site is so great for botanical printing.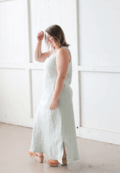 First things first, this NICO pattern is great. Not only does it come in the most high quality packaging, but it is simple to follow, gives you four styles to sew, and looks brilliant when finished. This dress will fit perfectly into my wardrobe. The size I chose was spot on, which is hard for these hips! I usually have problems with this kind of more fitted maxi dresses because of my curvy body, but I was so happy to find out that it fit me perfectly! I chose to sew the maxi version because I love the side slits and unique triangle accent at the bottom.

This is the Nico short dress. I raised the front neckline and slightly reduced the depth of the armhole. This was bleached mid-weight linen that I modified with shibori stitching and indigo dye.

The Nico dress layered with the Zina shirt. I LOVE the way it turned out, but I too had some sizing issues. BUT what I LOVE about your patterns is the attention to detail and the use of quality sewing techniques like hiding seams and the way cuffs & collars are applied. I haven't used these techniques since college tailoring classes. I know my garments will last a LONG time which is critical to me as I have started a NO CLOTHES buying campaign about a year ago. With the help of the FS team I'm sure everyone can make this pattern fit. I had to add a little to the hips, shorten the top area, but it works!

I made the Nico Maxi, ILO19- with a mini-piped neckline and armholes (IC64 - Pistachio Green). I used the same green to applique a vine, starting at the back, and going to the front and up. The hem is also applique'd in green. I used a machine point d' paris stitch for all the applique in the Madeira style.

Long Nico in ceramic linen, from the pieced pattern right before the printed one came available. I chose the color to match these shoes! I ended up taking it in at the shoulders once it was all done, with the extra folds visible on the outside and embellished with abalone buttons.
Enter the e-mail address associated with your Fabrics-store.com account:
Temporary password has been emailed
Temporary password has been emailed to ivan@ecwm.com, and should arrive shortly. If you have any questions or problems, please contact our customer care center at 1-866-620-2008.
Your account has been disabled. If you believe this to be a mistake, please call our customer service at 1-866-620-2008 and we will help you with your order. We appreciate your cooperation.
Web Accessibility Toolbar