Loren — Linen Pullover Dresses
Loren — Linen Pullover Dresses
Price:
Paper Pattern : $45.00

Loren is a linen pattern collection of loose, pullover dresses featuring decorative statement buttons, side slits and a self-belt to cinch the waist. Two sleeve lengths and inseam pockets make it practical. A great little dress that works morning, noon and night. Mix and match buttons for a more unexpected piece.
What you get with your pattern:

- 1:1 fit and pattern consultation with our in-house pattern maker and fit expert.
- The latest in sizing. We use up-to-date technology and body shape data to get you a better fit.
- Professional clothing construction techniques. Developed by industry insiders with 100 years of shared experience.
- Illustrated instructional booklet to get you from start to finish. Written with the beginner in mind.
- Comes printed on crease-free, rolled plotting paper. Professional quality.
- Your pattern comes with only the sizes you requested printed in vibrant colors. Less clutter for easier cutting.
- Complimentary pattern storage tube and pattern hook.
- Pattern card for easy reference.
- Sew for your business? The pattern license is free with purchase.

Pattern specifications:
| | |
| --- | --- |
| Type: | Paper Pattern |
| Design Variations: | 4 |
| Sizes: | 2 to 8, 10 to 16, 18 to 24 |
| Illustrations: | Yes |
| Instructions: | Yes |
Reviewer: Virginia
This pattern is very flattering except the pleats are a little high so I lowered them and lowered the pockets one inch. If I made it according to the pattern the belt would be much lower than the pleats unless it was worn empire style under the bust. Next time I think I will just lengthen the pleats. One can always baste them in place and decide after the garment is finished. I made a mock up in Swedish tracing paper and discovered I was two sizes smaller than my bust measurement. Go by your high bust measurement if you are a d cup. It went together very well but in future I will serge all the pattern pieces before sewing To save time. I want to make this again in black. Great way to use vintage buttons.
Reviewer: Warlene
What I did to prepare my project was a few things. I made two adjustments to the pattern. I added 5' to the dress front and back hem length. I wanted it to be maxi. I added 4' to the sleeve length so it could be a long sleeve. The pattern was smooth assembly and sewing. I actually had fun putting it together, I couldn't believe how smooth the process was.
Reviewer: Gyasti
The construction was pretty straight forward but with a few clever twists. One of them was the combination of front facing and back bias binding, and I can't say I hate it! The dress has a very convenient one piece pattern piece for the bodice and skirt. I would suggest to measure a similar dress that you have already own to determine the length of the front and back pieces and adjust the pattern pieces accordingly before you cut, since losing the slit length is not ideal. I altered mine to be 5" shorter, and I also added a wider hem that took an additional 1.5" out of the length. I added a covered circular belt as a personal touch and I love how it added a more vintage look to the dress. I also opted for 6 vintage tortoise buttons instead of the suggested 5.
Reviewer: Jill
Loren Dress Pattern modified to a shirt length blouse. I have received numerous complements on the shirt. The design is very flattering even for us with more round figures. I did shorten the V-Neck and the Sleeve length by about an inch because I am not a tall person. This one is sewn in IL019 Montana Grape Softened. Great design and pattern. Good instructions for construction. I was disappointed with the instructions to finish raw seams with a serger, as I don't have one. I added enough allowance on the facing to turn edges under and it worked great. Next one will be a dress length! Looking forward to it.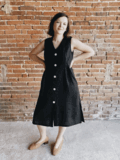 I went for a short sleeveless dress in size 6. A dress that could take me from morning to night, from chilling in my garden to an outdoor party or a glass of wine in a local bistrot. The pattern was so easy to work with. The instructions are clear and well-illustrated and the construction is pretty clever. The only modification that I did is to shorten the bodice by ¾" so that it suits my petite stature. I also decided not to make the belt as I knew that I would never wear it. The waist is actually already fitted with two pleats on each side of the center front creating a flattering silhouette. But what I love most about Lauren is the perfect illusion of a full button-up front. I'm sure I'll be wearing my Loren a lot this summer!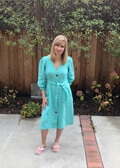 Stitched this dress from "IL019 MOSAIC Softened - 100% Linen - Middle" fabric. Really like the color and texture of the fabric.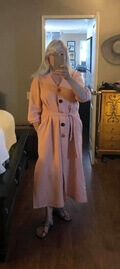 Size 12 in mid weight linen. I wish I had somewhere to wear it but I think it will be nice to wear in the autumn.

I made this dress using Fabrics Store's medium weight black linen. It's worn over a tank top and half slip made of black handkerchief linen. I made a couple minor changes such as lengthening the sleeves. I'm very happy with the way it turned out. I'm considering making a button front blouse using this pattern.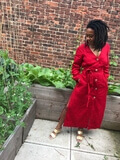 I'm a beginner in sewing so this took me a long time but I love the way it turned out and will definitely make this pattern again. I used the Crimson linen in the heavy weight and now that I understand a little more about draping, I see that I could have used the medium but as it is, it does have a certain dramatic effect. Changes I made: I liked Warlene's interpretation of the pattern so much that I also made mine a maxi. I added some tucks to the back as the thicker fabric was a little bulky around my waist and I wanted it to be sleeker. Also I don't have a serger so I clean-finished the seam allowances instead. Can't wait to swish around in this once lockdown ends!

I am crazy for a good dress. Especially one with buttons going down along the front. The Loren pattern is going to be a fave in my closet. When I received it the first thing I did was pull out all my vintage buttons to put against the beautiful Firecracker Red linen I got.

Ever since I saw the pattern for the first time, I knew I wanted to make the long dress with long sleeve version, and so I did! I'm 5'1" with a waist size of 26 and bust size of 32, which landed me pretty much exactly on size 2. From measuring the pattern, I knew that this dress has a lot of ease, but since the shoulder measurements are fairly close to my actual body measurements, I was confident that the dress would not overwhelm my petite frame.
Enter the e-mail address associated with your Fabrics-store.com account:
Temporary password has been emailed
Temporary password has been emailed to ivan@ecwm.com, and should arrive shortly. If you have any questions or problems, please contact our customer care center at 1-866-620-2008.
Your account has been disabled. If you believe this to be a mistake, please call our customer service at 1-866-620-2008 and we will help you with your order. We appreciate your cooperation.
Web Accessibility Toolbar