Zina — Linen Shirt & Shirt Dress
Zina — Linen Shirt & Shirt Dress
Price:
Paper Pattern : $45.00

Zina is that timeless, classic linen shirtdress that everyone loves. We loved it so much, we've included a shirt version for this pattern as well. Make it your own with pocket and belt styling options. Slightly dropped shoulder for a "casual" tailored look. Semi-fitted with room to move.
What you get with your pattern:

- 1:1 fit and pattern consultation with our in-house pattern maker and fit expert.
- The latest in sizing. We use up-to-date technology and body shape data to get you a better fit.
- Professional clothing construction techniques. Developed by industry insiders with 100 years of shared experience.
- Illustrated instructional booklet to get you from start to finish. Written with the beginner in mind.
- Comes printed on crease-free, rolled plotting paper. Professional quality.
- Your pattern comes with only the sizes you requested printed in vibrant colors. Less clutter for easier cutting.
- Complimentary pattern storage tube and pattern hook.
- Pattern card for easy reference.
- Sew for your business? The pattern license is free with purchase.

Pattern specifications:
| | |
| --- | --- |
| Type: | Paper Pattern |
| Design Variations: | 2 |
| Sizes: | 0/2 to 12/14, 16/18 to 28/30 |
| Illustrations: | Yes |
| Instructions: | Yes |
Reviewer: Aubrey
Came together easily i wish i would've had enough fabric for the dress version. Next time maybe.
Reviewer: Dana
This is a fantastic pattern (I bought the hard copy). I am new to sewing (I had never created a cuff or collar), yet I was able to create a beautiful shirt following the excellent instructions. I like the over-sized fit that allows the fabric to drape. I made mine in the soft pink color mid-weight linen.
Reviewer: Kathy
This is my very favorite shirt pattern. I have made it twice so far. I just love it. I made a practice shirt to make sure I had the sizing right and I love that shirt as much as the one I made from linen. You can make it any length. And clearly it lends itself to some experimentation, though I haven't tried anything yet. The only thing I think it lacks is a short sleeve option. I'll probably figure it out for myself, but wish it were just included to save me the time. And maybe the long sleeve just needs to be shortened...
Reviewer: Jessica
I have been looking for a shirt dress for ages' I have 3 yards of your beautiful white linen and I cannot wait to make the dress. Thank you so very much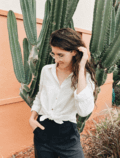 The ZINA Shirt is so comfortable, versatile and it was an absolute pleasure to sew! Is there anything this wouldn't look cute paired with? Jean shorts, wide-leg trousers, overalls, skirts, as a swim coverup with the sleeves rolled up – we think it is the best new wardrobe addition. Even more amazing, when you make it yourself, you can also customize. You can read more about this project here: blog.fabrics-store.com/2021/08/31/pattern-review-zina-shirt-in-lightweight-linen/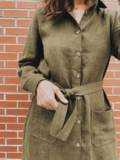 ZINA Shirt Dress made with FS OLIVE BRANCH Midweight Linen I don't know if I can adequately express how much I think everyone reading this needs to make a ZINA Shirt Dress. Maybe that sounds a little dramatic but wow, this was so fun to make and I think you can tell from my photos, how good I feel in this dress. A linen button-up shirt dress might be the best staple wardrobe pieces next to the little black dress and a great fitting jean.

I have always wanted to make a shirt dress but had always been very intimidated to give it a try. The collar and buttonholes were enough to deter me. Having successfully made a few other FS patterns, I felt up to the challenge. The instructions you get with the patterns are unmatched. I felt ready to take on this project. Not to mention it is the perfect time of year to have a linen shirt dress in rotation. To make the Zina shirtdress pattern, I chose the SHADOW GREY linen in 5.3Oz because it's so summery and compliments various tones already in my closet.

Made the Zina from 1C64 Lead Grey and added pewter colored DecoFoil to the pockets. It was my first time sewing a button up shirt and it went great! The instructions are detailed and easy to follow. I had no trouble with the collar, cuffs, curved hem, or any other parts of shirt sewing often billed as difficult. I found the sleeves to be a little loose but they look great rolled up! I opted to add flat felled seams to the entire shirt for a clean finish and traditional shirt look.
Enter the e-mail address associated with your Fabrics-store.com account:
Temporary password has been emailed
Temporary password has been emailed to ivan@ecwm.com, and should arrive shortly. If you have any questions or problems, please contact our customer care center at 1-866-620-2008.
Your account has been disabled. If you believe this to be a mistake, please call our customer service at 1-866-620-2008 and we will help you with your order. We appreciate your cooperation.
Web Accessibility Toolbar