Charlie — Linen Blouses, Pant, Bermuda, Short and Dress
Charlie — Linen Blouses, Pant, Bermuda, Short and Dress
Price:
Paper Pattern : $45.00

Charlie is a pattern collection made of six key pieces, perfect for a year-round capsule wardrobe. The midi-length dress transforms into a blouse in two sleeve lengths. The tailored pant, bermuda, and short, make Charlie your coveted attire for all seasons.

What you get with your pattern:

- 1:1 fit and pattern consultation with our in-house pattern maker and fit expert.
- The latest in sizing. We use up-to-date technology and body shape data to get you a better fit.
- Professional clothing construction techniques. Developed by industry insiders with 100 years of shared experience.
- Illustrated instructional booklet to get you from start to finish. Written with the beginner in mind.
- Comes printed on crease-free, rolled plotting paper. Professional quality.
- Your pattern comes with only the sizes you requested printed in vibrant colors. Less clutter for easier cutting.
- Complimentary pattern storage tube and pattern hook.
- Pattern card for easy reference.
- Sew for your business? The pattern license is free with purchase.

Pattern specifications:
| | |
| --- | --- |
| Type: | Paper Pattern |
| Design Variations: | 6 |
| Sizes: | 2 to 8, 10 to 16, 18 to 24 |
| Illustrations: | Yes |
| Instructions: | Yes |
Reviewer: Mariann
I purchased this pattern when offered as a special with 3 yards of the signature finish medium weight linen. I decided to make the sleeveless dress in that linen determining that I could dye it after construction if too sheer. It is a very quick and straight-forward make. I chose a size 8 to reduce the fullness rather than my usual 12. Also shortened by 4 inches (I am 5'4"). The fit is lovely and it passed the husband's "stand in front of a window" test. It has been hot and steamy here lately, this is like wearing my new favorite linen night gown! Love the neckline, and yes, I am addicted.
Reviewer: Maura
I made the Charlie shorts this summer. The fit is wonderful. I did change the zipper location from side seam, to a center front jean style placket zipper. It's an easy adjustment.
Reviewer: Eileen
I am an experienced home sewer & I have used mostly Vogue patterns but the past few years I have turned more to independent designers. This is the best pattern I have ever used. The instructions are detailed enough even for a beginner & the outcome was delightful. I made the wrong size and the blouse was way too big for me; I gave it to a friend who is full busted, has full upper arms and she just loves it. I am going to make it again in a smaller size. It is perfect in linen.
Reviewer: Jo
Never having worked with linen before, I bought this pattern collection because the description indicated detailed instructions. I didn't expect such a beautiful pattern! Frankly, I'd only purchased patterns from the Big 4 (don't laugh, I'm a beginner), so I didn't know what a premium pattern *was*. This pattern collection is wonderful; there are no extraneous "gee-whiz" details, but every detail adds up to a marvelous whole; I feel I've had a little tutorial on Design. I'm spoiled, now, with this pattern collection, the pretty instruction booklet, plus the unexpectedly delicious "signature finish" linen to go with it. 100% worth it. I have my eye on the Riva collection, next!
Reviewer: Deborah
I finally recieved my pattern today. Took a while to get but the quality of the pattern is exceptional.
Reviewer: Deborah
I still have not recieved my order, and it's been a long time. Sad it's not here yet, doesn't even show shopped. I have ordered 3 patterns and only recieved one! Disappointed

I made these pants! I have never seen before and had the help of my friend and her machine. She is a quilter but was an engineer major in college and I'm an MD. I had ordered the pattern which came with fabric. The pattern was likely for people that know how to sew and use a pattern. Things like wrong side and right side of fabric on linen was tough! I got help with the zipper with a real seamstress. I am so proud of myself and amazed at the pants!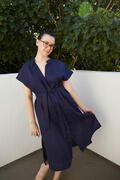 Such a fun and breezy dress that I made in the IL020 lightweight linen in the ABYSS color. I shortened the dress since I'm only 5'4" and I like my dresses to sit just below the knee.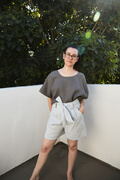 Fun shorts to make and perfect for summer. I made mine in the size 8 (I'm usually a 10) and decided to leave the length as is, without turning up the cuff. Pictured here in Feather IL019.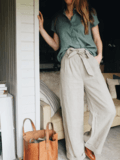 the Charlie blouse has plenty of ease included, so I recommend choosing your normal size for this pattern. I made my standard size 2 and it has a slightly oversized feel. If you're looking for a flowy top for summertime, this is a good option. I'm excited to dress it up with the matching Charlie pant or dress it down with white denim. I can already see this blouse joining me on many lake days as a swimsuit cover up as well.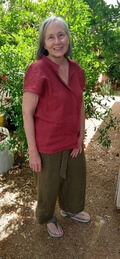 Here is Charlie, sleeveless blouse in Biking Red and pants in Olive both middle weight. I am very happy with the outcome, the blouse was easy but super big sleeve holes when finished caused a wardrobe malfunction ala Janet Jackson. I ended up taking in 2 inches on each side. The pants challenged me with my first ever invisible zipper which I struggled with and could not understand until I emailed Lauren at support for help and she sent back a link to her invisible zipper installation tutorial specific to the Charlie pants. Thanks Lauren!

Sewing the Charlie sleeveless blouse in Biking Red medium weight linen on my vintage Singer Featherweight machine which I LOVE. Anyone else out there sew linen on one of these wonderful machines? So fun! The Charlie blouse sewed up like a dream and was almost able to complete in a day. Very good instructions, easy to follow, red colored lines indicate seams very helpful. Can't wait to sew the other pieces in the Charlie collection! Long pants next in Olive.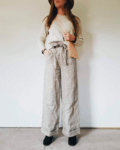 While searching for a pant pattern, I was immediately drawn to the design details of the CHARLIE Pant. The wide-leg, high rise, pleating, and belted waistband produce a flattering silhouette. I pictured it worn with woven leather flats and a simple cotton tee in summer months, then layered with leggings underneath and a cropped sweater in the winter. I picked the medium weight natural linen for its neutral color, which will be easily paired with many tops in my wardrobe.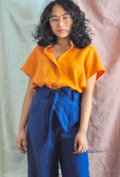 The CHARLIE pattern collection came to me at the perfect time. I've been looking for a classic blouse pattern with a twist for the summertime, and the Charlie short sleeve blouse fits the bill. The blouse has an effortless dropped shoulder with a loose fitting silhouette on the bodice. The back placket adds just enough detail to elevate its already timeless design. I also chose to make a pair of the long pants. They're high-waisted and straight-legged with some very nice tailoring details, such as front pleats and cuffs. Additionally, the super wide and curved waistband on the pants is perfectly body-hugging.
Enter the e-mail address associated with your Fabrics-store.com account:
Temporary password has been emailed
Temporary password has been emailed to ivan@ecwm.com, and should arrive shortly. If you have any questions or problems, please contact our customer care center at 1-866-620-2008.
Your account has been disabled. If you believe this to be a mistake, please call our customer service at 1-866-620-2008 and we will help you with your order. We appreciate your cooperation.
Web Accessibility Toolbar