HOW TO ORDER FREE FABRIC SWATCHES
Create A Free Account
To get started register for a free account. We ask that you register so that we know where to send your samples!
Free swatches will be sent to your default billing address via USPS mail. Swatches cannot be tracked. Your swatches are hand assembled and may take around 8-10 business days to arrive.
Adding Free Samples
Start by finding the fabric you're interested in and clicking the cut swatch icon next to the image of the fabric: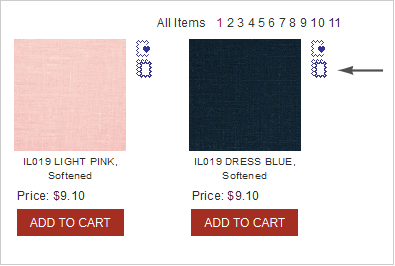 If you try to add more than 5 swatches at one time, you will receive this error message: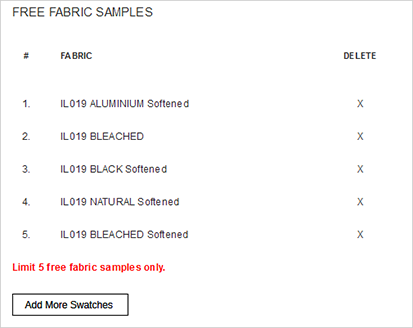 Adding More Swatches
You can order up to five swatches per card. To add more swatches to your card, click the "Add More Swatches" button.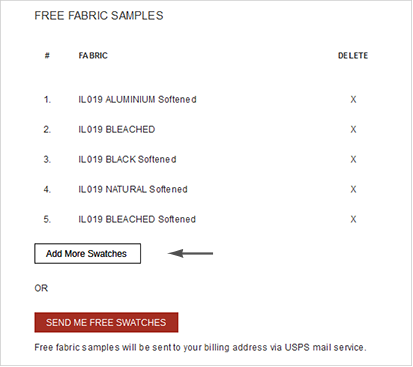 Placing Your Order
To finish ordering swatches, press the "Send me free fabric samples" button. We will send the swatches to your default billing address that you have listed in your account.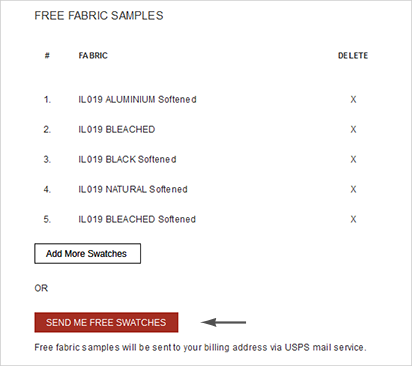 Removing Previous Samples
You can order several swatch cards by repeating the process after deleting your previous selections.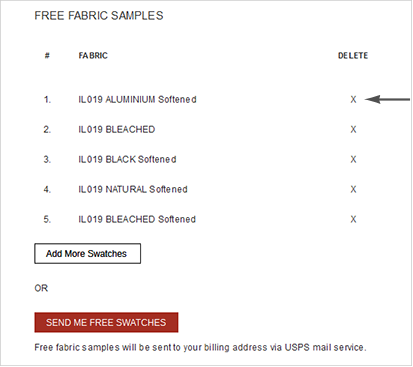 Ordering Outside Of The Contiguous US
We only send free fabric samples to the contiguous US and Canda. If you'd still like to order swatches, you may contact us at ask@fabrics-store.com or call us at 1-866-620-2008 and we'll do our best to help you.